Southampton to Jersey Cheapest Fares
To search and book flights to Jersey, please enter your travel requirements in the search form above, and click the search button.
Something for everyone, culture, coast and outdoor activities.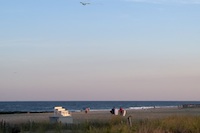 If you are looking for a beautiful island, only a short hop from mainland UK, there are daily flights to Jersey from Birmingham Airport. Whether you are looking for a beach holiday, a gastronomic retreat or a short activity filled break, Jersey is the place to go. Voted the Channel Island with the best beaches, it is perfect for holidaymakers who want to soak up the sun and relax on the sand. Beaches such as Arch Bay, Beauport and Cobo are mentioned in the Good Beach Guide, along with 33 others, so you are sure to find your ideal spot without too much difficulty. Bouley Bay is coined the diving capital of Jersey and there are courses, lessons and trips to suit all levels. It is possible to dive on wrecks; there is drift diving and some reef diving. The sea does get particularly cold in winter, but the dive centre in Bouley Bay rents dry-suits and any other equipment you might need.
If getting your feet wet is not your idea of fun, but you quite enjoy spending the day on the water, then Jersey has a lot to offer. Regular boat trips are available for visitors with activities that include fishing, catamaran sailing, day trips to France, dolphin watching or hiring your own boat for the day. Charter boats are available if you fancy cruising around the coast with your own skipper. It should be mentioned that pre-booking is likely to be required, especially in the busy summer months. Some trips may not be available in the winter, so it is best to check with the tourist board before making any plans.