London Stansted to Munich Cheapest Fares
The lowest fare found from London Stansted (STN) to Munich (MUC) was £104 with EasyJet. The fares shown here are the lowest flight prices to Munich obtained in actual searches by Just The Flight customers. To search and book flights to Munich, please enter your travel requirements in the search form above, and click the search button.
Twelve-gun salute opens Oktoberfest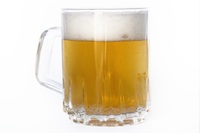 Over two hundred years the German Oktoberfest, the beer lover's paradise, has grown into the world's largest fair and now attracts well over 5 million people each year.
Munich, ranked by The Monocle as the world's most liveable city with daily flights from London Stansted, provides a picturesque setting; 420,000 square metres of open space just outside the city centre called Theresienwiese, or Wiesn for short.
Apart from beer, visitors can indulge themselves with Bavarian delicacies; Schweinebraten (roast pork), Steckerlfisch (grilled fish), Würstl (sausages), Kasspatzn (cheese noodles), Knödel (potato or bread dumplings) and, obviously, Pretzels.
One of the iconic symbols of the 'Fest are the Tirolerhüte, traditional Bavarian hats containing a tuft of goat hair. Because goat hair in Germany is a valuable material, the amount of tufts used proves the wealth of the person wearing the hat, but this has ceased to mean anything with the appearance of artificial fur.
There are currently fourteen major and twenty small beer tents. The most interesting ones include Schottenhamel (the 'Fest starts there), Hippodrom (the trendy one – it attracts some celebrities), Armbrustschützenzelt (hosts a crossbow shooting contest) and Hacker-Festzelt (which has a live rock band playing each night).
For a pleasant atmosphere and to keep the event family friendly, the music during the day is kept quieter and usually features traditional folk music, in line with the traditional feel of the beer tents. Only after 6.00pm does pop and Schlager music start playing and the party begins.