Izmir Cheapest Fares
To search and book flights to Izmir in 2020 and 2021, please enter your requirements and click the search button above.
The Izmir European Jazz Festival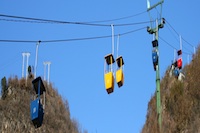 Famous European and Turkish groups and artists perform at the Izmir European Jazz Festival in Turkey featuring jazz, classical Western and traditional Turkish music. The Izmir Foundation of Culture and the consulates of the European countries in Izmir sponsor the festival, held in early March.
The festival takes place in the Ahmed Adnan Saygun Centre of Arts, which has concert halls with great acoustics and modern exhibition halls. The two weeks of the festival also include jazz themed discussions, workshops, and poster and photo exhibitions.
The Izmir Adnan Menderes International Airport is just 11 miles from the city and has flights from many European cities.
It is the Aegean Sea coast that makes Izmir a great tourist destination, with its beautiful scenery and excellent beaches. Izmir has some lovely tourist attractions right in the centre around Konak Square and the Kordon. Just outside this popular tourist destination is the Zoological Gardens in the Kultur Park.
The 100-year-old Izmir Asansor, one of the city's historical attractions, is an elevator that was built to give the residents a way of getting between the streets of Halilfatpasa and Mithatpasa without having to climb 155 steps. Izmir also has Teleferic cable cars, which give visitors some wonderful views of the city.
Izmir has many natural beaches and secluded bays within easy distance of the city centre. These beaches have a good selection of facilities. The Sifali Lux Haman is a lovely Turkish bath with a domed interior with marble finishing.