Adelaide Cheapest Fares
To search and book flights to Adelaide in 2020 and 2021, please enter your requirements and click the search button above.
Adelaide Australia is the perfect year round destinaton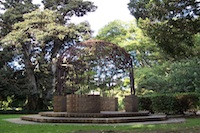 If Australia is on your holiday list this year, why not make Adelaide your next destination? This modern capital city lies along the shores of the Gulf St. Vincent and offers visitors a colonial historical experience, which has an unusually large collection of churches. The district of North Terrace is where you can spend a day or two exploring cultural centres that include libraries, museums and galleries. The gallery is home to the largest collection of Asian, European and Australian art.
Remember that when travelling down under, the seasons are reversed to what North Americans and Europeans are typically used to. This means that September to November are the hot months, while March to June is Australian winter. It's something to keep in mind when packing and booking flights.
Adelaide is full of festivals, with one of the most popular being the Adelaide Arts Festival. This fusion of cultural influences includes music, literature, poetry, drama, dance and art. This extraordinary event has been attracting thousands from around the globe since 1960. This festival needs to be planned in advance, as it only takes place during the month of March every two years.
However, Adelaide is still a great spontaneous destination for those looking for sun and sand. Glenelg, which is the most popular beach, has all sorts of games and rides. There is also a fun replica of the HMS Buffalo nearby, which has claims as being the best seafood restaurant around.