Agadir Cheapest Fares
To search and book flights to Agadir in 2020 and 2021, please enter your requirements and click the search button above.
Indulge in a Romantic Road Trip From Agadir to Casablanca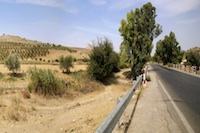 Agadir is sandwiched between the rugged Atlantic coast and the rocky Atlas Mountains. Visitors to this destination can now safely explore the picturesque landscape thanks to the recent completion of a new road that runs from Agadir to Casablanca.
When an earthquake almost completely destroyed Agadir in 1960, the authorities decided to rebuild the city using a grid pattern. The resulting wide roads, suburbs, modern hotels and pavement cafes are quite alien to the traditional bustling, almost chaotic, Moroccan cities. Agadir is now the main beach resort in Morocco, its large sandy bay is lapped by the cool waters of the Atlantic Ocean, and the combination of golden sand and a mild winter climate has helped to reinvent Agadir as a popular destination for Europeans who are seeking some winter sun or wish to explore the rich history of Morocco, the interesting French colonial and art deco architecture, and ancient medinas.
A recently completed road building project will now allow visitors to travel quickly and safely from Agadir to the largest city in Morocco, Casablanca. The toll road that links these two contrasting cities is 453 kilometres long and passes through the city of Marrakech, home of the largest traditional market or souk in Morocco, and over the snow-capped Atlas Mountains. This is a section of the route that necessitated the building of many flyovers, viaducts and bridges. The road, which took 10 years to build at a cost of over six billion dirham, has eight entries and exits to allow tourists to explore the areas surrounding the route of the road.