Malaga Cheapest Fares
The lowest fare found to Malaga (AGP) was £261 with Air France. The fares shown here are the lowest flight prices to Malaga obtained in actual searches by Just The Flight customers. To search and book flights to Malaga in 2020 and 2021, please enter your requirements and click the search button above.
The Malaga Fair Attracts Thousands of Visitors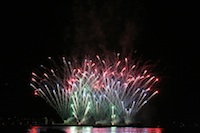 Taking a trip to a beautiful destination such as Malaga, Spain for a week, or even just a weekend, will provide visitors with a little bit of everything. This magnificent Spanish city offers visitors a great balance between natural wonders and modern city life.
Art lovers will most likely already know that this is the birthplace of Pablo Picasso. His works can be viewed at the Museo Picasso Malaga. Visitors to this world class museum can also see pieces from his childhood and learn about his family and upbringing.
There are plenty of historical sites in the city, including houses and fortresses from the 9th and 10th centuries, along with manicured parks filled with century old orange trees and purple bougainvillea. The 16th century Malago Cathedral is also worth a peek; its stunning architecture barely survived the Spanish Civil War.
The largest festival held in Malaga is the annual Malaga Fair. Visitors making this city their destination especially for this fair will want to check out flights in the month of August. The purpose of the ten-day festival is to celebrate the 1487 conquest of the city by Isabella and Ferdinand.
This exuberant street party, which attracts tens of thousands of people each year, opens with a night of fino (sherry) and fireworks. The next day people take to the streets in traditional costumes and it is time to eat, drink, dance and be merry.