Alicante Cheapest Fares
The lowest fare found to Alicante (ALC) was £83 with EasyJet and Business Class was £353 with Iberia. The fares shown here are the lowest flight prices to Alicante obtained in actual searches by Just The Flight customers. To search and book flights to Alicante in 2020 and 2021, please enter your requirements and click the search button above.
Alicante: For Active People!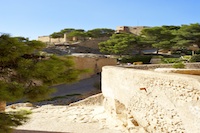 Situated on the Mediterranean coast of eastern Spain, Alicante has been a popular tourist destination for many years and it is easy to see why. Although not large, Alicante city has an abundance of culture, castles and cathedrals.
But here are some things you might not know about Alicante: Did you know that Alicante has a military-style boot camp? Or active tourism in the mountains? Or a diving instruction centre? Did you know that Alicante offers a wonderfully diverse range of adventure away-days and gift experiences?
But if lazing on the beach is more your style, you will not be disappointed. Alicante offers numerous beaches literally on your doorstep and a temperate year-round climate means you can visit at any time of year. Whether you prefer a busy beach with family fun or a secluded cove, Alicante has plenty to choose from.
From Alicante, you can take a day-trip by boat to the Isla de Tabarca. Explore the ruins, the coves, the church, and the museum and visit the shops, bars, and restaurants situated on the old square.
Alicante's temperate climate makes it an ideal location for water sports so you can expect to find a first-class range of activities from snorkelling and scuba diving to kayaking and paragliding. Alicante most definitely encourages an active holiday!
Alicante boasts a wide selection of bars and restaurants serving both Spanish and European cuisine. When you visit it is worth trying the local paella washed down with a bottle of Spanish white wine.