Algiers Cheapest Fares
To search and book flights to Algiers in 2020 and 2021, please enter your requirements and click the search button above.
Algiers is the Gateway to the Western Sahara Marathon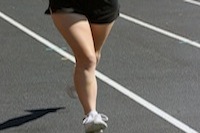 The country of Algeria's largest and most famous city, Algiers, is the launching point for the famous Western Sahara Marathon, making Algiers an essential vacation destination for the athletically-minded. The Western Sahara Marathon is hosted from the Sahawari refugee camp and features races through the world's most beautiful desert. This international sporting event helps to bring attention to the lifestyle and heritage of the Saharawi people. It is approved by the Secretary of State for Sport and organised by volunteers from all over the world. This organisation is the responsibility of two charities, the Association of El Ouali Bologna in Italy, and the Sahara Project Association of Madrid, Spain. The marathon welcomes participants from all countries. There is no other event in the world quite like this, and the organisers hope to raise awareness of the region and its unique ecology.
Algeria's capital city, Algiers, is host to some of the most interesting and unique events in the world. The city is often referred to as 'Algiers the White' due to its white architecture. Situated in a lovely bay of the Mediterranean, Algiers has both modern and old centres, and is a mix of Arabic and Berber culture. Algiers has many buildings of interest to tourists, including the Kasbah quarter, the Martyrs Square, and the former British consulate. Much of the architecture dates back to Ottoman times, when the Ottoman Empire built many prestigious buildings that have in many cases become state buildings. All of these things make Algiers a truly lovely vacation destination.