Just the Flight's Guide to Amsterdam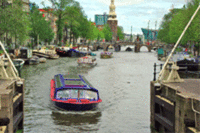 The Netherlands is one of the most popular holiday destinations in Europe, attracting millions of visitors every year, and with the myriad of attractions available this is no surprise. The Netherlands climate allows tourist visits at any time of the year since the country experiences cool summers (never rising above 25 degree Celsius) and mild winters.
Amsterdam, the capital, is a popular destination for all ages of traveller and the city has something to offer everyone. Whether it's family trips, stag weekends, business trips, romantic vacations, sightseeing, strenuous physical activities or indeed just to relax in comfort, people who book flights to Amsterdam are catered for in all expectations.
It's proximity to the UK means that obtaining good deals on flights to Amsterdam is very easily achieved with many budget airlines offering cheap flights to Amsterdam; depending on your UK departure point it is possible to be in Amsterdam's Schipol Airport less than an hour after takeoff.
Famous for its tulips, the red light districts and it's relaxed attitude to soft drugs, Amsterdam has much more to offer than just visits to hash cafes (which must also be experienced), with its numerous museums, live performances, theatres, amusement facilities for kids, historic buildings, cafes, bars and of course for business visitors many hotels have full conference facilities to allow constant communication with the office when necessary.
A melting pot of over 175 different nationalities, Amsterdam is one of the most diverse cities in the world and as a result caters for many religions and provides cuisine from many countries can be sampled in the hundreds of restaurants available in the Amsterdam area.
Those interested in art and culture are truly spoilt for choice with over 50 museums, including the Rembrandt Museum, The Van Gogh Museum and The Diamond Museum where you can learn all about how diamonds were created and also view the many interesting displays.
History buffs can visit The Resistance Museum, Anne Frank Huis (where she hid with her family for two years during World War II) and many other museums too numerous to mention here. Suffice to say, whether you are interested in Russian history, Egyptian artefacts, modern art, chess, different cultures, there is a museum to suit; there is even a sex museum (the first of its kind in the world) based on the theme of sensual love.
Those that travel with children are catered for also: Visit Madame Tussauds and have your picture taken with some famous celebrities. The Madame Tussauds in Amsterdam was the first branch outside of the UK and includes many Dutch celebrities and members of The Royal Family in its waxwork collection. Those with younger children can visit the Amsterdam Artis Zoo, the first in Europe and the third oldest in the world. Children will be delighted with the playground activities and the petting zoo while the botanical gardens and butterfly garden offer a perfect area for relaxation.
Science Centre Nemo delights both young and old with its interactive exhibitions on science and technology and with five floors of demonstrations, exhibitions and workshops, many pleasurable hours can be spent there. Play mini-golf at the Midgetgolf Amstelpark or learn to juggle, walk on stilts or on a tight rope at the Kindecircus Elleboog. Workshops for children aged between 4 and 17 are available between performances. Paintballing, tree climbing, and activity parks are just a few of the other activities available for families in Amsterdam.
Shopaholics are also well catered for, with numerous markets and shops available, including: The 9 Streets (a shopper's paradise, with clothes ranging from designer labels to vintage), The Museum District (more upscale designer labels) and many department stores. For those who like antiques, the Spiegelkwartier is Amsterdam's centre for art and antiques and contains over 70 antique shops.
Sport is of course very important in Amsterdam and guided tours of Ajax's Amsterdam Arena stadium are possible, which will allow you to soak up the 100 year old history of the club. Ice hockey, baseball and American football are also popular so why not catch a game during your visit.
Travelling around Amsterdam is easy, with bicycles being a common choice. Canal buses and trams are also available but many will just walk to their destination. Suffice to say, Amsterdam has too much to offer to list everything on a single page. Regardless of your requirements, Amsterdam has it all, whether it's a romantic canal cruise, guided excursions to surrounding areas, a trip to the beach (North Sea is quite close) or just a relaxing weekend break.