Just the Flight's Guide to Berlin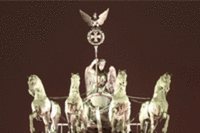 Of the many wonderful cities to visit in Europe, Berlin is really the one that steals the scene. Filled with some of the best museums, galleries, opera houses, clubs, churches, temples, and eateries, Berlin has something for everyone. Regardless of whether your preferences lead you to historical sights or nightclubs, Berlin has it all.
Within just two decades, after Berlin saw a rebirth (after the fall of its infamous wall), the city has become a mecca for fashion, art, music, and design. In fact, with such a global influx of artists and creative people in recent years, the German capital has been likened to the cultural cool of New York City. The city, despite its history marked by war and intolerance, exudes an atmosphere of openness, free experimentation and tolerance, with a slightly edgy undercurrent.
Though Berlin may have a seemingly hectic pace, like many other big cities it is incredibly down-to-earth, yet is laid-back at the same time. The public transportation system is ideal; traffic is usually not a problem, and you can walk around safely at night. Every restaurant, club, and destination in the city welcomes visitors with open arms in this fascinating city.
If you can get cheap flights to Berlin, all the better. It is a beautiful city with a rich history - complete with the architecture to prove it. Museum Island is a must-see complete with architectural monuments and historical treasures dating back to the ancient Greeks and Romans through to the 18th century. While you are in this area don't miss the gorgeous lawns of the Lustgarten.
A visit to Berlin really requires a look back into the city's history. The Berlin Wall was an historical anomaly that should not be forgotten. Today, visitors can walk the cobblestone paths that follow the line of where the wall once stood. Along the walk you will see how the wall bordered the Spree River and the Reichstag as you pass by the Holocaust Memorial and the rebuilt Potsdamer Platz. You will also see where the Gestapo once had their headquarters, and Checkpoint Charlie, the infamous border crossing location. Also, don't forget to visit the Brandenburg Gate.
If you are travelling with children, be sure to visit the Berlin Zoo. With around 14,000 animals, it is one of the biggest and most well organized zoos in Europe. You will also find the aquarium nearby which has just about as many fish, reptiles, and insects. Both attractions are fun for the whole family and are well worth visiting. Both are pretty large, so plan to spend about half a day there so as to not miss anything.
For film buffs, Berlin is a great place to be. German cinema has been an innovative and important element of film culture for decades. The Film Museum, located in the modern Postdamer Platz, is a great spot to learn the history of German film, ranging from the great Fritz Lang to more modern movies such as "Run Lola Run."
If you like to party and stay out late, Berlin is definitely the city for you. Without any official closing hours, (unlike other European cities) Berlin allows visitors and locals alike to enjoy themselves into the wee small hours of the morning; there is no last orders call! Perhaps this is why Berlin is full of young aspiring artists and other bohemian characters. Walking through the city late at night will afford you the opportunity to see some unusual impromptu street performances and art installations that you may have otherwise missed during the day.
Compared to other European cities, Berlin is by far the most affordable to visit. This is especially true if you are looking for flights to Berlin on a budget and need to watch your money. Almost all museum prices are under 10 Euros while hotel rooms are spacious for the price. When you visit Berlin, you can afford to stay several nights, unlike many other cities throughout Europe. It is a destination that will not break the bank.
Public transportation in Berlin is a dream. Consisting of buses, trams, the subway, trains, and ferries, there is no reason to rent a car. Route maps are always free and tickets are easy to buy and affordable. There are also plenty of taxis if you need them.
The overall climate of Berlin is a moderate one. However, Germany can get very cold, especially during the winter and Berlin's unprotected location in the lowlands makes it a target for the strong, easterly winds that can bring harsh storms. The best time to plan your flights to Berlin would be during the peak season, which is May through September, though October and November are still acceptable. If you don't mind the heat, visit during July and August.