Beijing Cheapest Fares
The lowest fare found to Beijing (BJS) was £1603 with Lot Polish, the cheapest direct flight was £2307 with Air China, while Business Class was £1603 with Lot Polish. The fares shown here are the lowest flight prices to Beijing obtained in actual searches by Just The Flight customers. To search and book flights to Beijing in 2020 and 2021, please enter your requirements and click the search button above.
Beijing: A Jewel of Heaven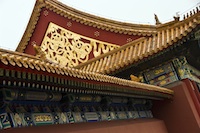 Located on the north-east of China, the capital city of Beijing is an amazing holiday destination. Situated inland, and at the mouth of the Yangtze River, this ancient commercial capital is a popular stop for river cruisers.
When visiting Beijing, take your camera everywhere you go - there is so much to see, so many amazing buildings and sights you will be glad you did!
Visit Beijing's largest square and parade ground, Tiananmen Square and from there it is just a short walk to the National Centre of Performing Arts or the Egg as it is known. If you wonder why the strange nickname, one look at the building will reveal all.
Of course a visit to the Forbidden City Imperial Palace and Museum is essential for every visitor. Officially, the largest ancient palatial structure in the world today, you could easily spend days inside the Forbidden City inspecting the 90 palaces and courtyards within. Guided tours are available.
In the south-east of the city and standing it its own impressive grounds is the famous Temple of Heaven. This is a place of ancient ceremony and is included in UNESCO's World Heritage Listing.
Another great place to visit is Houhai Lake in the central city: this is a great place to wander, very relaxing and peaceful. You can take a rickshaw if you choose or if you are feeling energetic, you can hire a bike and cycle around. Look out for the typically Chinese stone bridge across the river.