Just the Flight's Guide to Bangkok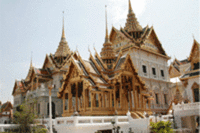 Bangkok is the economic and cultural capital of Thailand and is one of the most colourful and vibrant cities in Asia. Tourists from around the globe flock to the city, there are businessmen, backpackers, families and single travellers. Bangkok is a steamy pulsating metropolis, home to over ten million people. Here the visitor can find dazzling temples, eclectic markets, ritzy shopping malls and gleaming palaces.
Bangkok is geared up to catering for tourists and there is no shortage of accommodation, from budget to luxury 5-star hotels. There are also many airlines offering flights to the city, so there are plenty of flights to Bangkok available at any given time. Thailand's hot season runs from March to May and from June to September is the rainy season, while winter is from October to February. November to March is often considered the best time to visit, with cheap flights to Bangkok most likely to be found in May, June and September - the city will also be less crowded during this time.
The sprawling city has an array of interesting attractions and there is no better way of appreciating the layout of the city than from the observation deck on the 77th floor of the Baiyoke Sky Hotel, which numbers amongst the tallest hotels in the world. Bangkok's temples are a unique part of the city's life and soul and no visit is complete without a visit to at least two. The architecture is truly stunning and the decoration is like nothing that you will see elsewhere and the best time to visit is in the morning. The most important temple is Wat Phra Kaew or the Temple of the Emerald Buddha. Located in the historic centre of Bangkok in the grounds of the Grand Palace it is home to a Buddha image carved from a single block of jade. A tour of the Grand Palace is among the highlights of any visit to Thailand. The wooden houses established by the American Jim Thompson are an intriguing legacy and his life is a true adventure story. He made Thai silk world famous before mysteriously disappearing in Malaysia whilst at the peak of his business career. Today, the houses hold Thompson's art collection. The National Museum is also a major attraction and tours are provided in English.
Another major attraction of the city is the markets. Every day, between sunrise and sunset and sometimes even into the night, numerous markets are held in Bangkok. Colourful and bustling, they sell a range of vegetables, livestock, clothing, textiles and other goods. Most famous are the floating markets where boats are piled high with vegetables and tropical fruit. Visitors can buy ready to drink coconut juice or delicious local food cooked on the boats. For a relaxing view of these markets take a guided boat tour. In Bangkok western commercialism happily co-exists with old Eastern Buddhist traditions and for the discerning shopper the city has numerous department stores filled with everything from kitchen utensils to the latest fashions. Shopping malls include the legendary MBK, the sophisticated Emporium and the upmarket Siam Paragon. Along with its high-end designer shops there are also many excellent restaurants.
Bangkok is a bustling energetic city, so a chance to relax and recuperate may be welcome. Many hotels and serviced apartments have their own luxury spas. Private spas are just as luxurious and offer a range of treatments, including massages of various styles, body rubs, facials, herbal baths and aromatherapy. Most western spa treatments are available, along with Thai massages.
For families the crocodile park is home to saltwater crocodiles, elephants, gibbons, lions and snakes. Watch the fearless keepers put their heads in a crocodile's mouth and be sure to visit the Dinosaur Museum, where you will see skeletons and life-size models of dinosaurs. Dream World is a huge sprawling amusement park with rides, beautifully landscaped gardens and exciting shows.
Bangkok's nightlife has had a reputation for being seedy, but it is safe, relaxed and enjoyable. The city's diverse nightlife offers everything from live music and jazz to trendy clubs and hip bars. Watch the sun set over the metropolis whilst sipping a cocktail at one of Bangkok's rooftop venues. Thai boxing is popular both with the locals and tourists and there are opportunities to watch both training and contests. There are many discotheques catering to all tastes and many multiplex cinemas that show both Asian and Western films. Khao San Road is a popular mecca for backpackers and has numerous bars and clubs, whilst the central area is home to some of the world's super clubs and more upmarket bars.