Just the Flight's Guide to Boston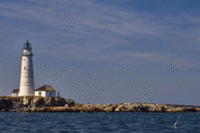 Boston is a popular US holiday destination with over fifteen million visitors every year; and with a multitude of activities available it will always be a premier destination. Tourists book flights to Boston throughout the year since the weather conditions are never too harsh. Summers are typically warm and humid (up to 30 degrees Celsius), while winters are cold, windy, and snowy (with the lowest temperatures around -2 degrees Celsius). The city is a popular destination for all ages of traveller and the city and surrounding area has something to offer everyone looking to book cheap flights to Boston, regardless of their requirements.
Boston was founded in 1830 by Puritan colonists from England and after the American Revolution became one of the largest trading centres in the US. As time progressed Boston also became a centre of political, educational and technological achievement; with Boston itself host to many nationalities (each located in one of the Boston districts), with Irish and Italian descendants dominant to this day.
Travelling around Boston is easy with many options available; the most commonly used being 'the T' or subway system, which will put you in range of most tourist attractions and live performance venues. Taxis are easily obtained and visitors are advised not to drive themselves unless they are intimately familiar with the city, the one-way systems and parking procedures can be difficult to get to grips with. As Boston is relatively flat, the use of bicycles is also quite popular but is only for experienced urban cyclists.
Museums are plentiful and cater for most interests; including the Boston Children's Museum, The Museum Of Fine Arts, Harvard Museum of Natural History, The Institute of Contemporary Art, The MIT Museum and The New England Aquarium, to name just a few. Panopticon Gallery is devoted to photography and displays the work of contemporary American photographers.
Annual events include the St Patrick's Day Parade (with a performance from the local band The Dropkick Murphys - similar to The Pogues), the Boston Marathon and of course the Fourth of July celebrations. All these events draw crowds from all over the world and are also well attended by local people.
Sport is very important to Bostonians and little wonder since the city is the home of the Boston Red Sox (baseball), Boston Celtics (basketball), and the New England Patriots (football). Tours of Fenway Park (the Red Sox Stadium) are available on non-match days.
The largest shopping areas are in the Back Bay and Downtown Crossing (social centre of the city), and there are also two huge shopping malls in the centre of town. The most popular areas are Newbury Street, Harvard Square, and Charles Street. Bargain hunters can travel outside Boston to the Wrentham Village premium outlets; all the big brand names (in clothing, houseware, electronics, etc) are here, and at discounted prices.
Boston is famous for its New England clam chowder and restaurants all over Boston have fresh seafood readily available. The North End District has many fine Italian restaurants and other international cuisine is available in Chinatown and other districts.
Boston's nightlife is renowned, as given its reputation as a drinking town there are many bars and clubs to choose from; including two bars that attract fans of the TV show, Cheers, The Bull and Finch Bar in Beacon Hill (that inspired the show) and another at Faneuil Hall which is designed as a copy of the TV set as shown in the series. Both venues have souvenir shops for tourists. You can also visit dive bars or take brewery tours of both the Samuel Adams Brewery and The Harpoon Brewery.
For those thinking of booking flights to Boston and using the city as a base, then Cape Cod, Martha's Vineyard and Nantucket are easily reached. Or even take a trip to Salem (think witch trials) all of which can provide a relaxing alternative to the hustle and bustle of Boston. As you can imagine there is always something happening in Boston, with thousands of live performances, exhibitions and events occurring every year. The easiest solution for visitors is to either check schedules online in advance, or just travel to Boston and obtain event listings from one of the free newspaper vending machines on most street corners. These free papers outline all current events and usually provide useful tips for visitors relating to travel passes and other money savers.