Balikpapan Cheapest Fares
To search and book flights to Balikpapan in 2020 and 2021, please enter your requirements and click the search button above.
Visit Balikpapan, the Main Gate of Kalimantan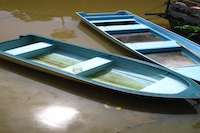 Balikpapan is a city located on the island of Borneo in Indonesia and has recently become a preferred destination for travellers wishing to explore the province of East Kalimantan.
Known primarily for its oil, mining, and timber industries, tourism has started to take a real hold here as people realise that it is a peaceful and relaxing destination, despite being the second largest city in the province.
Surrounded by the Balikpapan Bay, this city is populated by a diverse range of people. Known locally as the 'Main Gate' of East Kalimantan, it is the perfect base for further exploration. As a seaport city, there is no shortage of superb, freshly caught fish on which to dine.
With little in the way of nightlife on offer, most of your time exploring the city will be done during the day. Apart from the splendid beaches of Manggar and Lamaru located just outside the city, the major draw of the city for tourists is undoubtedly the crocodile farm and the Kebun Sayur Traditional Market Centre where you can purchase gems, including diamonds, at a variety of good prices.
Tour operators in the area offer a range of river safaris and the Orangutan Sanctuary and Eco lodge offers travellers the chance to see rescued orangutans and sun bears. The centre is also open for volunteers to spend a couple of weeks at a time helping with the animals and this is an excellent way to experience wildlife in the jungle while helping make it a better place.