Burbank Cheapest Fares
To search and book flights to Burbank in 2020 and 2021, please enter your requirements and click the search button above.
Downtown Burbank Fine Arts Festival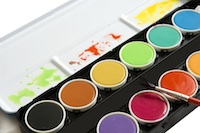 Over a hundred artists from the American West will display their works this summer during the annual down-town Burbank Fine Arts Festival. Taking place on San Fernando Boulevard between the streets of Orange Grove and Magnolia, the festival is the largest outdoor art gathering in the region and every year draws large crowds to this destination in Southern California.
The outdoor exhibition lasts two days and is open to the public: there is no admission charge. A diverse event, the festival celebrates several different kinds of art including photography, sculpture, ceramics, and jewellery as well as painting, stained glass, and metalworking. One thing that makes this festival stand head and shoulders above other similar events is the fact that all of the art is original to the attending artists - nothing for sale has been manufactured commercially or purchased to resell.
Major artists attend from California as well as the nearby states of Nevada and Arizona, giving the event a definite south-western flavour. All artists participating in the exhibition attend personally, with some of them providing demonstrations of their skills and techniques. Taking place each summer, the festival gives tourists an opportunity to soak up the sun in the warm California climate while seeing first-hand the kinds of innovative artistry born and bred in the Western United States, a region characterized by deserts and mountains as well as the fantasy landscapes painted by Hollywood and Disneyland. All in all, the Burbank Fine Arts Festival is a fine destination for a taste of unique south-western culture.