Baltimore Cheapest Fares
To search and book flights to Baltimore in 2020 and 2021, please enter your requirements and click the search button above.
Experience Old America in Baltimore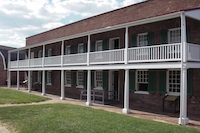 "Oh the stars, can't you see…" These lyrics, coming from the national anthem of the United States, "The Star Spangled Banner", are famous worldwide. Have you wondered where this famous anthem was written? "The Star Spangled Banner" was written in Baltimore back in 1812. Baltimore, Maryland is a historical American destination with lots of things to do, so it's definitely worth a visit.
No visit to Baltimore is complete without experiencing its history. One of the must-visit historical sites in Baltimore is Fort McHenry. Fort McHenry is a star-shaped fort which entered the American history books during the War of 1812 as the fort was instrumental to defending Baltimore Harbour against the British during the Battle of Baltimore. It was during this battle when Francis Scott Key was inspired to write the American national anthem. Today, Fort McHenry is a popular attraction, being classified as a natural monument by the American government.
Another notable historical site is a town located in Fells Point, founded in 1730 and became wealthy from shipbuilding and maritime trade activities. For centuries, the town has remained unchanged, the old charm drawing tourists to it.
Visitors to Baltimore must visit the Inner Harbour, which features several things to do, and is where jazz groups stage live performances. Visit Baltimore's historic ships, including the USS Constellation, or visit the gigantic National Aquarium. Kids will love a visit to the Maryland Science Centre, also located in the Inner Harbour. Complete your Inner Harbour experience with some shopping and some food.
With lots to see and being one of America's most historical cities, Baltimore is an interesting destination which travellers should consider.