Just the Flight's Guide to Cairo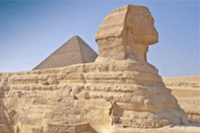 Cairo is a city of almost 18 million inhabitants and first impressions of this sprawling metropolis can be alarming for the visitor. Although it's only four hours from UK airports it can seem as if you have landed on the far side of the world. There are daily flights to Cairo from Heathrow, with a varied selection of airlines, therefore cheap flights to Cairo are commonplace. Like most African cities it can be unbearably hot in summer, so aim to visit between November and March, when the climate is more tolerable.
Egypt is not a destination for the timid traveller, so flights to Cairo should be considered well in advance to give you time to plan your trip accordingly. With careful planning, it's possible to arrange your own holiday with little effort. Accommodation in the city can easily be found and with the help of an informative hotel receptionist and a good guidebook you can spend an exciting few days in this lively capital city.
The ancient Pyramids are of course the big draw for this part of Egypt, but you need look no further than Cairo itself to find buckets full of history.
Choose your hotel with care and select the best accommodation you can afford and remember, in general, the leading hotels are to be found in the major tourist areas of the city. Cairo has a maze of streets and alleyways and it is easy to find yourself off the beaten track, so it may be a good idea to hire a guide for an hour or so. This is an excellent way to see some of the sights that you would not normally find by yourself.
Egypt is a Muslim country so exploring Islamic Cairo is a must. This ancient quarter is a maze of narrow streets and alleys with mosques, medieval forts and markets. It's a fascinating area and quite safe, providing you remember that bare arms and legs are not considered appropriate in Muslim society; so leave the shorts and skinny tops in your hotel room. Wear shoes that will slip off easily if you intend to enter any mosques and remember that they are closed to the general public during prayer times. If you bear in mind these are holy buildings and show respect for local worshippers you will enjoy the experience of this fascinating part of the city. In the heart of Islamic-Cairo is the Khan Ali Kalil, Cairo's biggest open-air market. There are row upon row of stalls selling spices, perfumes and exotic jewellery. If you decide to buy something don't forget to haggle, it's expected of you.
A morning in the Egyptian Museum can give you a wonderfully condensed view of the treasures of the Pyramids, as many of their contents have been removed and put on display here. The highlight of the exhibits has to be the items taken from the tomb of the boy king Tutankhamun, in particular the sumptuous death mask, which has been described as the most beautiful object in the world.
To the east of the city is an impressive fortress on a hill; a Citadel built by Saladin in 1207, which has two magnificent mosques. The Mosque of Muhammad Ali is made entirely from alabaster and both are well worth seeing, providing you are suitably dressed.
Modern Cairo may be 150 years old, but its streets are wide and bright, because they were modelled on the Parisian boulevards, so there is an air of spaciousness here that you can't find in the rest of the city. It's quite a relief, after the bustle and noise, to relax and sit for a while in a café drinking coffee while you recover from an overdose of antiquity. It's also a good shopping area, with western style stores where haggling skills are no longer required. Leather goods are an especially good buy.
Cairo offers a good selection of restaurants with cuisine from all over the world. There are Italian trattoria, French bistros and Indian curry houses, but for good local fare one of the best is places is Felfella, near Medan Talat Harb. They offer great Egyptian food, but it's not the cheapest in the area, so if you don't want to splash out, in the same street, there are fast food outlets selling local specialties.
Cairo can be noisy and brash, but if you take care and have a sense of adventure it can be a fantastic experience.