Just the Flight's Guide to Cape Town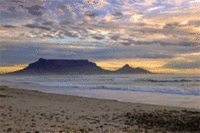 This beautiful South African city has one of the most dramatic backdrops in the world - the distinctively flat top of Table Mountain. Add to that a colourful African culture, wide clean beaches, world class international hotels and restaurants offering some of the most diverse cuisine on the planet and you have the ingredients for a tip-top holiday.
Cape Town is the ideal place to start or end the South African experience. The country has so much to offer the tourist - bush safaris, horse safaris, scuba diving in the crystal-clear waters, wine appreciation - but whatever you're doing you must stay at least a night or two in this amazing city.
Most major airlines from around the world have daily flights to Cape Town, and this applies to UK airlines and airports as well. Plenty of cheap flights to Cape Town are available and you can be sure to find a great deal at our own website.
First on the list of things to see must be Table Mountain. The flat summit has great views of Cape Town in all directions so it's a good way to familiarise yourself with the layout of the city. There are look-outs, telescopes and a restaurant up there, and if you're visiting in the summer plan to go in the early evening as the sunsets are magnificent.
The area around Table Mountain has been designated a national park, stretching from Table Mountain south to Cape Point. This is the southernmost tip of Africa, and the cliffs are some of the highest in the world. There is a big selection of African animals within the reserve, in particular the Cape Mountain zebra as well as over 250 species of flora and fauna found nowhere else in the world. There are picnic spots and tidal pools, so if you are a nature enthusiast allow yourself a day here.
There can be no one who has not heard of Robben Island, where Nelson Mandela and his fellow freedom fighters were incarcerated during South Africa's apartheid era. It's now classified as a World Heritage Site and a guided tour is a humbling experience. There are regular boat trips out to the island and the excursion will take about three and a half hours; ferries depart from the Clock Tower Precinct on the V&A Waterfront.
As well as being the ferry base for Robben Island the V&A Waterfront is a tourist hotspot. It is still a working harbour, but with tasteful restoration it has become one of South Africa's main tourist attractions. There are over 250 little shops, a mix of designer boutiques and ethnic craft shops, a great choice of eateries, coffee shops and activities for kids, such as the Two Oceans Aquarium plus permanent exhibitions depicting the Cape's maritime heritage. Should history fatigue strike there are always the pubs for a refreshing drink to set you up for some retail therapy, or a sunset cruise around the bay.
There is no avoiding the presence of the townships in Cape Town. It's true that by Western standards there is poverty and difficult living conditions, but you will see there the true spirit and resilience of the indigenous South Africans. A visit to Langa, the oldest such settlement in the country, is an uplifting experience, but don't attempt to go there alone - consult your hotel reception or an official tourist office for details of guided tours.
Tourist offices also offer whale watching and wine estate tours; your only problem will be deciding what to see next.
Cape Town has a thriving arts scene; take your pick from traditional African music and dance, jazz, ballet, opera, contemporary theatre and comedy - there's something for every taste.
Nightlife is vibrant, with bars and clubs open till late, particularly in the V&A Waterfront, and if you like a night at the casino there's Grand West for gambling, wining, dining and entertainment.
Cape Town is one of the most colourful cities in the Rainbow Nation, and leaves a lasting impression on its visitors. It's too good to miss if you're in South Africa. Check out our flights to Cape Town for the latest deals and bookings to this vibrant destination.