Cheap Flights to Cancun (CUN) from UK Airports
Book flights to Cancun
Cancun Cheapest Fares
The lowest fare found to Cancun (CUN) was £513 with Aero Mexico and the cheapest direct flight was £685 with British Airways. The fares shown here are the lowest flight prices to Cancun obtained in actual searches by Just The Flight customers. To search and book flights to Cancun in 2020 and 2021, please enter your requirements and click the search button above.
Cancun One of Mexico's Beautiful Beach Destinations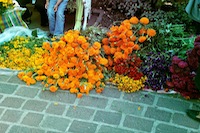 As travelling opportunities increase and holiday trends change, airlines are expanding their flight routes to include new destinations. British Airways has recently added scheduled flights to Cancun from its UK travel hub. Mexico is fast becoming one of the world's most popular beach destinations.
Cancun plays host to a number of festivals throughout the year. Perhaps one of the most intriguing is the Day of the Dead or Dia de Muertos which takes place in late-October to early-November. This festival is held throughout Mexico and is a day when the living hold a feast and celebrations to honour the memory of their dead relatives. Street parades are held and the cemeteries and street shrines are decorated. Mariachi music fills the air, shop windows are decorated and there are parties everywhere. It may sound gruesome, but in Mexico the celebrations have attained the status of a national holiday, and it is a time of celebration, not mourning. The festival can be traced back to the indigenous peoples of Mexico. A common symbol of the Day of the Dead is the skull. Celebrants will wear skull masks and special foods such as sugar or chocolate skulls are sold as well as costumed figures with skeleton faces. There are regional variations in the celebrations and, in Cancun, traditional Mexican ceremonies are influenced by ancient Mayan customs to create Hanal Pixan or the Mayan ritual of the dead. The Hanal Pixan ceremony is held in the ruins of El Rey, an ancient Mayan city, approximately 30 minutes from Cancun.
Cheap Flights
The best prices our customer have found to Cancun in the last 7 days
Aero Mexico
Cancun
£513

Air Europa
Cancun
£527

British Airways
Cancun
£564

Air France
Cancun
£569

Iberia
Cancun
£593

Direct Flights
The cheapest direct flights to Cancun our customers have found in the last 7 days
British Airways
Cancun
£685