Dhaka Cheapest Fares
The lowest fare found to Dhaka (DAC) was £582 with Emirates. The fares shown here are the lowest flight prices to Dhaka obtained in actual searches by Just The Flight customers. To search and book flights to Dhaka in 2020 and 2021, please enter your requirements and click the search button above.
Dhaka's ornate Lalbagh Fort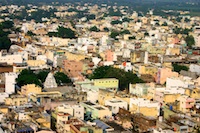 Dhaka, the capital of Bangladesh, boasts a rich history stretching back to the Mughal dynasty. This bustling city of over seven million offers visitors a dynamic mix of old and new, including skyscraper and high rises, as well as the opulent, 17th century architecture of the Lalbagh Fort, Dhaka's most prominent landmark and tourist attraction.
Lalbagh is not only known for its ornate design, but also for its meticulously-maintained, sprawling gardens. Built by Shaista Khan and the scene of the Great Rebellion against colonial rule in 1857, the surrounding Victoria Park, also known as Bahadur Shah Park, offers an experience steeped in history.
Lalbagh Fort was designed, in part, to function as a mosque, which explains some of its domes and minaret-style structures. The fort's southern gateway has been well preserved and is especially imposing, including a wall that is over 13m high. The ornate mosque is open to visitors, as is the tomb of Bibi Pari, the most prominent structure in Lalbagh Fort.
Other major tourist attractions in Dhaka include the Ahsan Manzil palace, which is renowned for its pink façade and was the official residence of the Dhaka Nawab family; as well as Bangladesh's ultramodern parliament building, the Jatiyo Sangshad Bhaban.
Dhaka's hot, humid and tropical climate means that the best and most comfortable time to visit the city and gardens of Lalbagh Fort is in the late autumn or early spring. The local airport, Zia International, operates regular scheduled flights to London's Gatwick Airport