Just the Flight's Guide to Delhi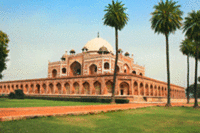 Delhi or more precisely, the National Capital Territory of Delhi is the largest metropolis in India. More than 12.25 million inhabitants live in the city, which covers an area of over 573 square miles. However, it is not the capital city of India, as many believe. In fact the capital is actually New Delhi, which lies within the metropolis of Delhi.
From an historical perspective, Delhi has been continually inhabited since the sixth century BC. Following the rise of the Delhi Sultanate, it emerged as a primary political, cultural and commercial city and at that point in history was the capital of the country. It was during British colonial rule, which lasted from the eighteenth to mid twentieth centuries that the capital was moved to Calcutta. Finally, after independence was granted in 1947, New Delhi became the capital.
Delhi is an absolutely delightful place to visit; with so many things to see and so much culture to immerse yourself in, it's no wonder that so many tourists flock to the area every year. Flights to Delhi are often filled with excited backpackers and explorers, all hoping to find adventure and a bustling, cultural environment unlike any other.
The area is home to many ancient and medieval monuments and flights to Delhi are often booked solid by travellers looking to experience the fantastic landmarks the city has to offer. One of the must-see sights is the Qutub Minar, which is located in south Delhi. This impressive sandstone tower rises to a height of 72.5m and is covered in carvings of verses from the Qur'an. The Qutub Minar is seen as a significant representation of Indian history and culture and is therefore popular with tourists and locals alike. It is also considered to be an excellent photographic opportunity.
India Gate is also a very famous landmark, being the national monument of the sub continent. It is a war memorial commemorating the members of the British Indian Army who died fighting for the Indian Empire during the First World War. The memorial consists of a 42m high archway made of red stone and bears over 72,000 names. India Gate is an important landmark, which is well worth visiting, as it represents a significant part of India's rich history.
Something any visitor must experience while in Delhi are the bustling markets, exciting, vibrant places where haggling is a required attribute if you want to get a bargain. One of the best is Dilli Haat market, located at Sri Aurobindo Marg. The small thatched cottages offer tourists an authentic and unique cultural experience and with over 200 stalls offering anything from handicrafts to food and cultural activities, it is a sure way of picking up souvenirs for yourself or to take back to your family. The market is open daily and a small entry fee is charged, however the fee is considered to be well worth it just for the experience of walking through this unique marketplace; definitely an experience you will remember for a very long time.
The public transport network in Delhi includes buses, auto rickshaws and a metro. Buses are most popular with both locals and tourists, but if you really want to immerse yourself in Indian culture it is recommended that you take an auto rickshaw. They are cheaper than taxis and are entertaining and fun, particularly if you are travelling with children.
Whilst in India make a point of indulging in some of the local cuisine. Restaurants are usually fairly priced and are considered to be an essential experience for tourists who really want to involve themselves in Indian culture. Traditional curries taste far nicer than those bought in your local takeaway back home and are normally eaten using only your hands, aided by naan bread for dipping. It is worth noting that most Indian food is vegetarian-based.
Delhi experiences very long, hot summers; lasting from early April to mid October and includes the monsoon season. Winter tends to be brief and mild and is a notoriously foggy season. If you're lucky enough to hop onto one of many cheap flights to Delhi, always ensure you pack your luggage according to the time of year you plan on visiting. When out and about, be sure to carry plenty of water with you, especially during the summer months where the heat can easily cause dehydration.