Dominica Cheapest Fares
To search and book flights to Dominica in 2019 and 2020, please enter your requirements and click the search button above.
World Heritage Site and Champion of Carnivals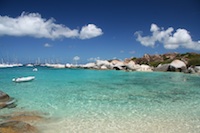 The combination of producing a carnival tipped as the best in the world with a well-deserved reputation for stunning natural beauty makes the Caribbean island of Dominica a destination with a difference.
Imagine a wealth of beautiful natural sites featuring a tropical rainforest, crater lakes, rivers and waterfalls, then add an acclaimed traditional Caribbean carnival that takes place just before Lent and is friendly and full of fun.
High rainfall in the inland part of the region creates amazing water features and Dominica's volcanic origins are seen in features such as the 'Boiling Lake' – a flooded vent near a volcano. Filled with simmering blue-grey water, and usually shrouded in a vaporous cloud, the lake is around 200 feet (63 metres) wide and among the largest of its kind in the world. There are many other smaller examples around the island, including at least one underwater.
If you are seeking a destination with a lively annual festival, on Dominica you will find West African, Caribbean, French, and English influences contributing to the rich cultural heritage of the carnival, with little commercialisation in evidence. French masquerade traditions blend with an African dressing-up party – people appear on the streets in pyjamas or fun costumes, banging on drums, biscuit tins or saucepans, then enjoy a feast of performances of calypso and other music.
For a quieter life, there are lush mountain peaks for hiking; dramatic vertical walls underwater for keen divers; birds, whales and dolphins to watch and secluded beaches in which you can just relax.