Darwin Cheapest Fares
To search and book flights to Darwin in 2020 and 2021, please enter your requirements and click the search button above.
Darwin City hosts the annual craft fair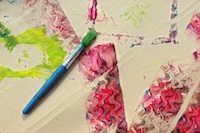 The annual Hi to the Dry Craft Fair and Expo will be held in Fannie Bay, Darwin. The fair and expo will provide visitors the opportunity to buy hand-crafted items that have been made locally.
Held in the grounds that are opposite the NT museum and art gallery, it is a fitting destination. During the day there will be food and drink available and entry into the expo is a free event that is open to everyone.
At the craft fair there will be many suppliers of crafting materials such as sewing machines, beads, jewellery, paper, card, glass tools, special scissors, drawing materials and much more. There will also be the opportunity for visitors to the fair and expo to purchase direct from all of those who craft items. Visitors can browse through the unique and wonderful items, all of which are hand made, the creators are there to answer questions about their craft and the inspirations they have.
During the day there will be a number of workshops that will be available for visitors to take part in. In these workshops, visitors will be able to learn about the different crafting skill and have a go at creating something themselves.
Darwin City is a destination that is situated in the northern territories of Australia on the coast. Getting to Darwin will be a long journey and will have a number of stops but it will be worth the time spent travelling. There is a wide selection of hotels to choose from as well as many bed and breakfasts.