Kefalonia Cheapest Fares
The lowest fare found to Kefalonia (EFL) was £361 with KLM. The fares shown here are the lowest flight prices to Kefalonia obtained in actual searches by Just The Flight customers. To search and book flights to Kefalonia in 2020 and 2021, please enter your requirements and click the search button above.
Tranquillity and Unspoilt Nature in Kefalonia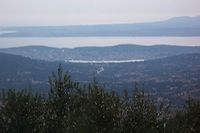 The largest of the Ionian Islands Kefallinia (or Cephalonia, Cephallonia, Kefallinia, Cephallenia, Kefalonia or Kefallonia as it is also spelled) remains an island less travelled no matter how you spell it. This is great news for those seeking an exotic destination that is less crowded than the other, more well known island destinations in Greece.
Travellers to Kefallinia can easily hop on one of the many flights departing from the UK year round that will take them to a holiday of fine, sandy beaches and turquoise waters. Quaint villages, a National Park, and Mount Ainos add to this island's unspoilt natural beauty.
This island less travelled is a delight for those wishing to explore nature, take in truly remarkable scenery and enjoy the local culture without being overwhelmed by crowds of tourists. Kefallinia offers quiet, calm and, for those who are looking for it, a non-crowded island paradise.
The main airport is located in the town of Argostoli. Due to the fairly large size of the island a car hire here makes a lot of sense for those who wish to explore, as there is no public transportation aside from taxis, which can become expensive.
When it comes to events and festivals, there are no major ones that will draw huge crowds; however, those visiting the island generally do so for the scenery, the tranquillity, the culture and the picturesque villages that bring visitors back year after year.