Cheap Flights to Fresno (FAT) from UK Airports
Book flights to Fresno
Fresno Cheapest Fares
To search and book flights to Fresno in 2020 and 2021, please enter your requirements and click the search button above.
Fresno's Blossom Trail Puts the Bloom into Spring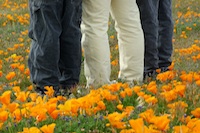 Late February to mid-March is blossom season in Central California, and no other place in the state celebrates the coming of spring as avidly as Fresno County, which annually establishes an official "Blossom Trail" to guide visitors through the wildflower fields and the orchards dotting the entire region. Two of the most prevalent flowers on display are the California poppy, the official state flower characterized by shiny golden blooms, and a native flower known as baby blue eyes.
Events for the Blossom Trail take place throughout this popular destination. Simonian Farms serves as the official start of the trail and provides treats and souvenirs for visitors making the trek. In the town of Orange Cove, tourists can learn about citrus cultivation in particular and begin to recognize the various citrus trees from their blossoms. This area is considered to be one of the most fragrant and beautiful sections of the Blossom Trail.
There is more to do on the Blossom Trail than just enjoy the flowers. European visitors may be intrigued to find a taste of Sweden in the popular Fresno County destination of Kingsburg. The downtown here resembles an old-style Swedish village complete with authentic architecture and oddly enough, a water tower crafted to resemble a Swedish coffee pot!