Rome Cheapest Fares
The lowest fare found to Rome (FCO) was £77 with British Airways. The fares shown here are the lowest flight prices to Rome obtained in actual searches by Just The Flight customers. To search and book flights to Rome in 2020 and 2021, please enter your requirements and click the search button above.
Enjoy L'Estate Romana in the Heart of Rome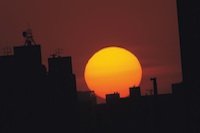 Rome is a vibrant city all year round, but never more so than during the summer months when the air is warmer, the days are longer and calendar begins to fill with activities. Along with the vast array of historical sites, art and architecture there are a large number of events taking place in all parts of the city during the summer.
If you are planning on a trip to Rome, May to September is the time of year that the city explodes with planned festivities that attract visitors from around the world. This time of the year is known as L'Estate Romana, which means the grand Roman summer season of festivals; it is when the city transforms many of its piazzas and squares into venues for live concerts, outdoor shows, exhibitions, theatre performances, art displays, and dancing.
The Villa Celimontana Jazz Festival, the largest jazz festival in Italy, takes place in the Colle Celio, a green park set in the midst of many ancient Roman ruins. This festival has been a success since its debut in 1994 and continues to grow in popularity each year.
Near the end of the summer, travellers flock to Rome to take part in the Notte Bianca, which takes place each September. This festival is one where Rome competes with Paris with a night dedicated to culture in the form of shows, ballets, concerts, exhibitions, and puppet performances. It is a night where no one sleeps as the festival goes into the wee hours of the next day.