Fuerteventura Cheapest Fares
The lowest fare found to Fuerteventura (FUE) was £102 with Jet2. The fares shown here are the lowest flight prices to Fuerteventura obtained in actual searches by Just The Flight customers. To search and book flights to Fuerteventura in 2020 and 2021, please enter your requirements and click the search button above.
Skill and Colour at the Kite Festival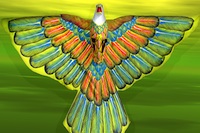 The International Kite Festival is a very popular annual event in the Dunas de Corralejo National Park on Fuerteventura. The Festival is held for three days on the second weekend in November in the north-east of the popular holiday destination of Fuerteventura. The sand dunes of the 2,500-hectare national park are a perfect setting for the kite festival attended by kite flyers from all over the world. The hundreds kites flying above the island make a spectacular and colourful sight.
The first day of the event is an all day 'free fly' on the Playa de Corralejo and commemorative t-shirts are given out. The second day is given over to the stars of the kite world to display their skills and craftsmanship until the sun sets. The evening sees a night display before the main day, the Sunday, when there are more activities, including 150 kites being given to children and the flight of the teddy bears, who parachute in dropping sweets for children to catch. There is also an exciting kite battle where two stunt kites fight it out until only one is left in the sky.
Fuerteventura is one of the Canary Islands and the closest to the African coast. With 3,000 hours of sunshine a year, no wonder it is such a popular holiday destination with thousands of tourists heading for the beaches each year.
The Spanish Island of Fuerteventura is served by the Fuerteventura Airport near the capital city, Puerto del Rosario. Flights arrive from many European cities.