Sao Paulo Cheapest Fares
The lowest fare found to Sao Paulo (GRU) was £1609 with TAP Air Portugal and Business Class was £1609 with TAP Air Portugal. The fares shown here are the lowest flight prices to Sao Paulo obtained in actual searches by Just The Flight customers. To search and book flights to Sao Paulo in 2020 and 2021, please enter your requirements and click the search button above.
Sao Paulo's rhythm is a dancer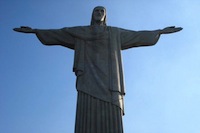 Sao Paulo is home to the Carnival of Brazil, arguably the most iconic symbol of Brazilian culture. With its colour, rhythm and energy, this vibrant carnival is held all over Brazil to say farewell to bad things and to prepare this deeply Catholic country for Easter.
The carnival varies from state to state, but nowhere does it quite like the popular tourist destination of Sao Paulo. The carnival takes place 46 days before Easter and the parades of Sao Paulo take to the streets on Friday and Saturday night. Football is huge in Brazil, and Sao Paulo is no exception, so its no surprise to see soccer schools taking place in the Sambedrome of Anhembi, one of the largest complexes in Latin America with capacity for 30,000 spectators!
Samba music is the primary sound you'll hear if you make the carnival your destination. Samba is the 'official music' of Brazil, and the drum orchestra style is the perfect accompaniment to the festivities! Samba schools are prevalent throughout Brazil, so you shouldn't fail to seek out a lesson or two if you fancy being taught by the experts. These samba schools lead the way at the carnival, so it's safe to say you're in for a treat if you seek out the visual and aural spectacular.
Sao Paulo is the largest city in Brazil and the seventh largest in the world, so you can be sure that this diverse metropolis will offer a true insight into one of the world's most-exciting countries.