Granada Cheapest Fares
The lowest fare found to Granada (GRX) was £409 with Iberia. The fares shown here are the lowest flight prices to Granada obtained in actual searches by Just The Flight customers. To search and book flights to Granada in 2020 and 2021, please enter your requirements and click the search button above.
Easter Week in Granada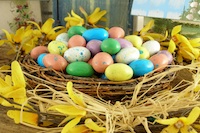 Every year, in mid spring, Granada is home to some of the most exciting Easter celebrations in the world, drawing thousands of tourists to the city to join in the festivities. A wide range of festivals, entertainments and processions take place during this week, and it is a great time to explore the city.
Highlights of the week include Easter Wednesday, when a spectacular procession of the 32 religious brotherhoods of the city takes place in the streets. Once dusk falls, the Cristo de los Gitanos (Christ of the Gypsies) procession winds its way up the mountainside, where bonfires are lit in caves and the night is filled with music and dancing.
The winding streets and historic architecture of Granada makes the perfect backdrop for the festivities, though it is a fascinating place to visit at any time of the year. The breathtaking La Alhambra fortress is a must for any visitor and forms the focal point of the Santa Maria de la Alhambra procession on Holy Saturday, where fireworks and falling petals mark the image of the patron saint entering the door.
Whether visitors are religious or not, the experience is likely to be unforgettable. The atmosphere and sights that can be found in the city each year are exceptional, and the surroundings are perfect for this kind of celebration. The area is likely to provide any visitor with a spellbinding Easter Week.