Just the Flight's Guide to Geneva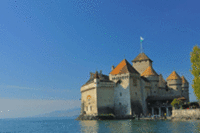 This famous Swiss city is set in a stunning location, between the Jura Mountains and the Savoy Alps, and it can be truly described as being international. Geneva's attractiveness is enhanced by its prominent position at the western end of Lake Geneva, a beautiful stretch of water which serves as a venue for weekend sailors.
Its close proximity to the Alps makes it a Mecca for snow sports enthusiasts so winter flights to Geneva are packed with skiers and snowboarders heading for the slopes.
The city is an excellent choice for a short break at any time of the year, and cheap flights to Geneva with low cost airlines such as Easyjet and Flybe make it a great destination for a weekend away.
Geneva is small by most city standards, and most of the sights can be seen in a couple of days, but the countryside beyond is perfect for walking, particularly in the spring when the low mountain pastures are full of spring flowers. Several tour companies offer walking holidays with scheduled flights to Geneva together with accommodation and guides. This can include one or two nights in Geneva before leaving for the mountains and gives ample time to explore the city.
Geneva is renowned as a business hub, so there is no shortage of good hotels, run with typical Swiss efficiency. Many of them are first class international chains, and as such are not noted for a cheap night's accommodation but there are plenty of small hotels to be found; check them out on the internet. The Old Town has some delightfully quirky small hotels and auberges with oodles of charm.
The Old Town is a maze of cobbled streets with the massive cathedral of St Pierre at its centre. There are quaint shops and restaurants here; for a delicious lunchtime snack try the Café Creperie St Pierre, adjacent to Christies Auction Rooms.
There is an array of museums in this area; at the last count Geneva had more than thirty museums and art galleries, so for culture-vultures there's plenty here to keep you occupied for a day or two.
Of course, it's impossible to ignore the lake and its Jet d'Eau - the world's tallest and probably most photographed fountain. The Jet d'Eau is an awesome sight by day, and when illuminated at night it's even more dramatic.
From the shores of the lake there are wonderful views of the Swiss Alps, and with so many cafes all around the water's edge it's a great place to have a coffee and take in the scenery. There are boat trips which leave from the lake's jetties and they are a popular way to view Geneva from the water.
Geneva is a city of parks and green spaces, and many of them are situated around the lake.
For keen gardeners the Botanical Gardens are a must. There is estimated to be 16,000 plant species here from all over the world, and as well as the arboretum and greenhouses there is a 'conservation' animal park and the 'Botanicum', a great kid's exploration site near the lakeside.
One of Geneva's most important industries is the manufacture of world-class watches, and this is celebrated in another of the city's most visited sites, the Floral Clock, created in 1955 and situated in the Jardin Anglais, on the Quai du General Guisan.
To mark the millennium the clock was redesigned and is now composed of eight concentric circles, which are planted up with flowers according to the seasons, a massive work of floral art and technology carried out by the city's municipal gardeners.
The Horology Museum records Switzerland's long association with the watch-making industry and has free admission for visitors.
Nightlife in Geneva takes second place to daytime activities. If you are hoping for a vibrant club scene you'll have to look hard. Most of the night-time entertainment is geared towards the business visitor, so it tends to consist of dinner dances and cabaret. The theatre and the arts are popular here, so if you fancy a night at the opera for example, you will be in luck. The town livens up in August when it holds the annual Fetes de Geneve - an arts festival centred on the waterfront. There's music of all types, funfairs and street performers.
If you are looking for a few days of tranquillity, with some wonderful scenery, elegant shops and good international dining, then Geneva ticks all the boxes.