Visit Hanoi During Tet Nguyen Dan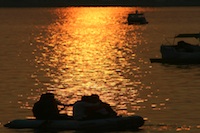 Choosing Hanoi as a destination during Tet Nguyen Dan – the most important date in the Vietnamese calendar – can be daunting, but it can also be the experience of a lifetime.
Translating to 'The first morning of the first day', Tet Nguyen Dan is an occasion for family reunions and as households gather together, much of the city can appear empty and closed.
The celebration takes place at the end of January or the beginning of February, and marks the start of the New Year by the lunar calendar. Entertainment and festivities traditionally take place over three days, although many people celebrate for a week or longer.
Gifts of food are sent to friends, neighbours and relatives in the days running up to Tet, and deceased ancestors are invited to join in with the celebrations. Respect is paid to the elders and the gods that have helped throughout the year, such as the Kitchen God, and fireworks are set off at locations across the city, including Hoan Kiem Lake, Van Quan Lake and Da Dong Lake.
Although traditionally enjoyed by locals, tourists to Hanoi can enjoy the frenzied build-up – much like the western Christmas and New Year holidays – and although the city remains quiet on the day itself as families congregate, as the days pass the festivities spread out to restaurants and public areas so as to include friends, work colleagues, and other acquaintances.
Westerners are often seen to represent wealth, health and strength by many Vietnamese people, and therefore having contact with a westerner visiting the destination is thought to bring good luck for the year to come.