Heraklion Cheapest Fares
The lowest fare found to Heraklion (HER) was £256 with Swiss and the cheapest direct flight was £366 with EasyJet. The fares shown here are the lowest flight prices to Heraklion obtained in actual searches by Just The Flight customers. To search and book flights to Heraklion in 2020 and 2021, please enter your requirements and click the search button above.
Heraklion Digs into History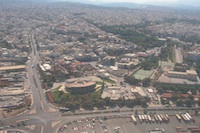 Heraklion, on the Greek island of Crete, is one of the largest and most modern cities, but is also surrounded by ancient history. Thankfully, the local authorities have expended quite a bit of effort to ensure the relics of the ancient past survive into today so that we, and our children, can appreciate them.
One of the most magnificent sites is the Palace of Knossos. Located in a valley about five kilometres south-east of Heraklion, this palace was once the centre of power for the entire island. The Minoan culture flourished here and approximately 80,000 people once lived in and around this monument. Today you will find wall paintings, reconstructed rooms, frescoes, recovered buildings, and irrigation drains. Especially in today's eco-conscious society, Knossos demonstrates how a large civilisation did manage to thrive in harmony with nature.
Another Minoan town is located at Gournia. Although smaller than Knossos, this site gives the visitor a much better idea of what everyday life was like for the ordinary Minoan people. Over 3,000 years old, the walls and walkways of this town still exist, and one road leads up to the top of a hill where a temple likely existed. The views from the top are worth the trip by themselves, but are a bonus for those walking the site for the archaeological significance.
Heraklion has done a fine job of branching out their offerings from the standard sun-and-sand tourism into items of more significance, and these two sites among the many on the island are definitely worth a visit.