Just the Flight's Guide to Hong Kong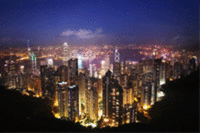 Hong Kong is comprised of Hong Kong Island, Kowloon and the new territories. In the modern, flourishing city of Hong Kong you will find impressive skyscrapers, the offices of major financial companies, the headquarters of multi-national companies and high-end shops. Hong Kong is an overwhelming experience, navigating its teeming tightly packed streets with their neon signs, steam-filled canteens and general noise can be quite daunting. However, it is also a city to delight in and it is fantastically well organised and safe. There are thousands of flights to Hong Kong each year and visitors can always sample something new, whether it is shredded jellyfish or dawn Tai chi. For excitement join the crowds at the city centre horse races or head for the country and you can find remote mountain peaks, deserted islands and beautiful beaches.
The peak tourist season used to be spring and autumn, but today tourists visit all year round, although September to February is recommended, as the climate is more moderate during this period. If you are looking for flights to Hong Kong during festivals book early to avoid disappointment. Bear in mind that during Chinese New Year many restaurants and shops close. A number of budget airlines such as AirAsia offer cheap flights to Hong Kong.
If pampering is your style then Hong Kong will not disappoint; this city offers the ultimate luxuries that only somewhere used to catering to the moneyed elite can. However, Hong Kong still has much to offer those on more limited budgets. Often, the most precious memories are something simple, such as a $2 tram ride, a visit to a beautiful temple or savouring fishing village seafood and sundowners.
The Peak is one of the most popular attractions in Hong Kong. Once the preserve of the elite, tourists can now visit the area on the Peak Tram. The tram climbs through 1,200ft pulled by steel cables at an angle that is so steep the buildings appear to be leaning at 45 degrees. The summit offers spectacular views of the city, Victoria Harbour and Kowloon. Victoria Harbour is one of three natural deepwater harbours in the world and was vital in the development of Hong Kong as a commercial centre. Today it is still as important and is a bustling hive of activity, day and night. Take a night-time cruise abroad a ferry to appreciate the Symphony of Lights, a stunning multimedia show that features over 40 of Hong Kong's skyscrapers.
Hong Kong has a unique cultural heritage, combining both East and West. The old and new live alongside each other in the city where incense-filled Chinese temples and old colonial buildings sit side by side with modern glass and steel skyscrapers. Ancient traditions and colourful festivals enliven city life and Hong Kong also has a diverse range of museums, which provide a fascinating insight into the territory's history and development. Museums cover art, history, film medical sciences and policing, as well as more specialist subjects.
Hong Kong is a shopper's paradise, with a wide range of products and brands in all price ranges. Choose from glitzy malls, trendy boutiques, funky street markets, themed shopping districts or traditional Chinese product stores. Visitors can find everything from electronic gadgets and designer fashions to antiques and collectibles. Remember to compare prices before you go and look for the QTS sign, which is awarded by the Hong Kong Tourism Board and certifies that the shop provides clear prices and product information and has a high standard of customer service.
This cosmopolitan city is renowned as the culinary capital of Asia, boasting over 11,000 restaurants, many of which can be found in defined food districts. Visitors can choose from Cantonese and regional Chinese food, authentic Asian cuisines, including Indian, Thai, Malaysian, Indonesian and Filipino or Western cuisine, such as Italian, French, American and Mediterranean. Fresh seafood and dim sum are just two of the must-try dishes.
Happy hour in Hong Kong starts between 6pm and 9pm and sometimes continues until midnight. Sophisticated bars, funky nightclubs, hostess bars and neighbourhood pubs provide something for everyone. There are bars and clubs with live music, while others have live sports broadcasts and many are open 24 hours, for those who want to party the night away.
If you are looking for a break from hectic city life escaping is easy with over 70% of the island's landmass being rural. Nature lovers can climb stunning mountains, hike across country or tramp through bamboo forests. You might also like to laze on tranquil beaches or bird watch at the renowned wetland park.