Just the Flight's Guide to Johannesburg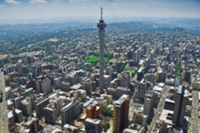 Johannesburg is the largest city in South Africa and is also known by other names such as Jozi, Jo'burg or eGoli. This city is in the list of the world's 40 largest metropolitan areas and has a thriving diamond and gold trade, as a result of its strategic location on the mineral-rich Witwatersrand range of hills.
A quick search on our website will show information on flights to Johannesburg. There are plenty of daily flights from all major cities around the world. There are cheap flights to Johannesburg and you will find some good discounts are often available. Your flight will arrive at O.R. Tambo International Airport, the busiest and largest airport in Africa, which also serves as a gateway for air travel into the rest of southern Africa. It is 16 miles from the city and you can take either a taxi or a shuttle bus into the city.
So, what are the interesting places to visit in Johannesburg? A good place to start is the Apartheid Museum located in Ormonde, 6 km south of the city centre. Prepare yourself for an intense but honest look at South Africa's history of their struggle to freedom from the oppressive regime. The moment you enter, you are given an entry pass labelling you as either white or non-white. Then, as your tour continues, you will be constantly reminded of the ridiculous methods that the former government used to maintain racial segregation. Lots of vivid photographs, text displays and video footage pay tribute to the courage of the black political leaders and the white liberals who supported them. You can even have a hands-on experience by squeezing yourself into one of the small solitary confinement cells that used to hold prisoners for long periods without trial.
Next, you can make your way 6 km south of the city centre to Gold Reef City, a former gold mine shaft now transformed into a tourist attraction. It had produced over 1,400 tons of gold by the time it closed in 1975. Faithfully recreated to resemble a Victorian town of the gold-rush era, visitors can view a huge variety of gold-related exhibits and museums. You can descend 656 feet into the old mineshaft to see demonstrations of gold being poured and minted. When searching for flights to Johannesburg, try to time your visit to catch a performance by the gumboot and traditional dancers - a great piece of entertainment. Gold Reef City is also a theme park and is popular with teenagers during the school holidays, when they come out in throngs to go on rides like the Tower of Terror and Anaconda roller coaster. Toddlers and younger children can go on the tamer rides like the Jungle Train or Lazy Boats. The theme park now also boasts of Africa's first 4-D cinema theatre, where you can experience smells in addition to sights, sounds and motion. Adults can try their luck in the adjacent casino, accessible via a sky bridge. When you are hungry, try some African-fusion cuisine while listening to jazz music at the Back O' The Moon Restaurant.
If you want to take a close look at African tribes and their way of life, consider a visit to the Lesedi Cultural Village. This village is comprised of four separate homesteads, inhabited by a Xhosa, Zulu, Basotho and Pedi family. All of them live here permanently looking after their livestock, basically living their normal daily lives and occasionally mingling around with the tourists. The 3-hour tour starts at 11:30am and 4:30pm daily. It's highly recommended to go for the latter timeslot, as it's much more enjoyable at night. Upon arrival, visitors are offered refreshments and a presentation on these particular tribes, which lasts for 30 minutes, followed by a guided walk through the four homesteads. The tour visitors can learn about the similarities and differences in culture and customs between these groups. The highlight of the tour has to be a traditional sing and dance session, which is held in a circular open-air enclosure called the Boma, topped off with a Pan-African buffet meal.
There is so much to see and do in Johannesburg that it's hard to take in everything during one trip. Just relax, take your time and maybe follow some of the local tours. It is far easier to understand the culture and people with a good tour guide explaining everything as you go around. Go to the suburb of Rosebank for some wonderful shopping at the malls in the numerous music, book, fashion and craft shops. There, you can also pick up some nice souvenirs of your trip to this insightful, cultural hotspot.