Santorini Cheapest Fares
To search and book flights to Santorini in 2020 and 2021, please enter your requirements and click the search button above.
Be Awed by Santorini's Dramatic Landscape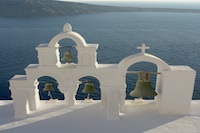 British travellers like to choose destinations which are highly accessible. In this case, with lots of flights, Santorini in Greece fits the bill. Santorini is not only highly accessible, but also features beautiful, dramatic landscape, be it its amazing sunsets or its formidable active volcano.
One of the main things to see in Santorini is its very own active volcano, known as Kameni Island. One can choose to admire the volcano from the village of Firostefani, or take an excursion to Karmeni Island itself to be near the active volcano. The area around the volcano is best explored by boat. A typical boat excursion package to the area around the volcano will include time on the volcano island and for the hot springs.
Santorini is also known for its amazing sunsets. For this, the town of Oia is the number one pick. The town itself is very scenic, offering great views of the caldera and other parts of the volcano. One can spend the day in Oia just walking around, snapping pictures at the amazing sights of Oia. Finally, when sunset comes, just sit back and relax in a chair and watch one of the world's beautiful sunsets. Don't forget your camera!
There are plenty of beautiful beaches on Santorini. Visit Perissa, a coastal village featuring a unique beach with rather peculiar black sand which is hot to sit on, but nevertheless an interesting sight. Perissa is also abundant with sea life, so don't miss that.
Santorini is a unique destination, offering so many unique sights which cannot be found elsewhere. Whether for romance or just pleasure, Santorini is a great place to visit.