Cheap Flights to Krabi (KBV) from UK Airports
Book flights to Krabi
Krabi Cheapest Fares
To search and book flights to Krabi in 2020 and 2021, please enter your requirements and click the search button above.
Celebrate the Queen of Thailand's birthday in Krabi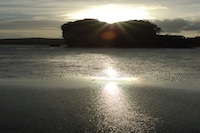 The month of August sees a special celebration for the people of Krabi, Thailand. For the tourist lucky enough to catch a glimpse of this exciting spectacle, it is surely an experience that will not soon be forgotten. Her Majesty Queen Sirikit's birthday celebration comes to Krabi along with festival goers and musicians from all over Thailand. The Queen's Birthday is part of a five day celebration where companies and social organisations all prominently display pictures of Queen Sirikit. Thai flags and giant portraits of the queen are hung throughout the streets during the festival time. Ceremonies are held in the religious temples, and celebrations are held in the streets, featuring dance, concerts and fireworks shows. It is a tradition in Thailand to mark the occasion using fairy lights.
Krabi is a tourist destination in Thailand on the west coast of the southern shore, and is located at the mouth of the Krabi River. Tourism is important to the town and there are many annual events for tourists to enjoy. Krabi has a strong tradition of joining in with national celebration in August when Queen Sirikit's birthday is celebrated. Open celebrations are common in the city and it is traditional to sing "Happy Birthday" to the Queen of Thailand during the festivities. Krabi is extremely close to Phuket, the international tourist destination featuring some of the finest beaches in the world and the setting for many movies. Also worth seeing is the opening of the Andaman sea, an annual celebration in November each year.