Kingston Cheapest Fares
To search and book flights to Kingston in 2020 and 2021, please enter your requirements and click the search button above.
The home of reggae beckons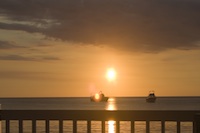 Kingston is the capital of Jamaica, the popular Caribbean tourist destination, which is also widely recognised as being the birthplace of reggae music. Over the past three decades or so this music genre has become popular across the globe and in recent years the city where it all began has really begun to celebrate its status. Flights to Kingston land at Normal Manley International Airport, which is located to the southeast of the city.
Kingston, the capital of Jamaica, is where reggae music actually originated. Perhaps even more significantly, it is also where the legendary musician, Bob Marley, was born. As a result, this exciting destination boasts a large variety of annual music related festivals. The foremost of these is the Air Jamaica Jazz and Blues Festival, which is held all over the city at various locations. Even though the name of the festival suggests it might feature only jazz and blues type music, the reality is that it draws musicians and fans from all music genres and tries to blend them with jazz and blues themes. For example, the festival also supports music styles from areas of the world as diverse as Cuba and Africa; along with the city's own reggae. This kind of amalgamation is not seen anywhere else and Kingston draws much admiration as a result. In addition, the city is also home to the best reggae festival in the world, the International Reggae Day, which is usually celebrated in July.