Osaka Cheapest Fares
To search and book flights to Osaka in 2020 and 2021, please enter your requirements and click the search button above.
Osaka Cherry Blossom Festival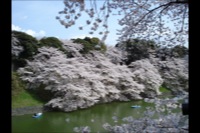 Every year the Cherry Blossom trees of Japan bloom in spectacular fashion. The blossoming draws thousands each spring who hope to witness the sight of the hundreds of new, pink flowers adorning the trees.
The best time to catch the cherry blossoms is spring, though the exact date will change from year to year. Anticipation builds up in the weeks before the expected blooming. Once the flowers finally emerge, thousands pack into Osaka to witness the event.
There are plenty of beautiful historical and natural sites in Osaka at which to see the cherry blossom trees. This includes the many stunning temples and shrines that can be found throughout the city. Many people take a simpler route, though. Many families have their hanami, or cherry blossom viewing party, in a park under the trees. They bring home cooked meals or take out and eat their meal out under the beautifully blossoming trees.
Festival usually spring up to commemorate the blossoming of the trees. Vendors sell traditional Japanese food and a variety of souvenirs to entice visitors to the area. There are also crafts such as paper lanterns on display.
Night is as popular a time for the festivals as day. While the blossoms are bright and vibrant during the day, they are equally as beautiful by night, when light up events make the trees shine in the dark.