Krakow Cheapest Fares
The lowest fare found to Krakow (KRK) was £90 with EasyJet. The fares shown here are the lowest flight prices to Krakow obtained in actual searches by Just The Flight customers. To search and book flights to Krakow in 2020 and 2021, please enter your requirements and click the search button above.
Karakow offers more than Gothic cathedrals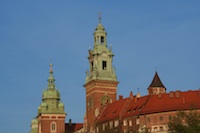 Being the medieval capital of the country for more than 500 years, Karkow is where a major part of Poland's history rests. It can be seen in almost every corner of the city, along most every building on every street, and amongst the amazing Gothic and Renaissance architecture. Karkow remains the country's jewel, with its totalled combination of more than 2 million pieces of art, monuments and historical buildings.
The city's Wawel Castle in Old Town is a popular tourist site, with its towering cathedrals and large market square, which just happens to be the largest in the region. Close to Wawel Castle is another site worth visiting. This is where you can locate Kazimierz, the old Jewish quarter. The Old Synagogue still remains, as a reminder of the past.
Krakow is a major destination for people for a variety of reasons and one of those reasons is its livelihood. The city is absolutely bursting with pubs, dance clubs, art, great restaurants and heaps of attractions that will keep you busy for days. The best part is that Karkow can easily be explored on foot, especially in the Old Town.
For festivals, Karkow is known for hosting the international Crossroads Festival. It has become the most significant festival in Poland, with music talents participating from all around the world. If you're in need of a good music festival, make Karkow your summer destination.