Just the Flight's Guide to Kuala Lumpur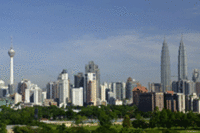 Known simply as "KL" to those who love the city of Kuala Lumpur, the capital of Malaysia is a monument to the country's innovation, creativity, and determination. The town itself started life as a shanty-town with a focus on tin mining, and has since grown into a 21st century metropolis. Kuala Lumpur is dominated by the tallest skyscrapers in Asia, and is rich in international commerce and trade. In fact, Kuala Lumpur can very well be described as the Asian New York.
Kuala Lumpur was founded in 1857, as a small tin-mining outpost without much promise. It is fairly young when compared to many other cities in the country, so its history is a little less rich than nearby cities, such as Malacca or George Town. However, Kuala Lumpur has made its way to the top. After a rough start marked by years of gang violence, Kuala Lumpur eventually began to prosper and grew into the impressive and safe metropolis it is today.
As a traveller interested in visiting Asia, you probably already know that the marketing campaign for Malaysian tourism reads "Truly Asia" - and that is exactly what Kuala Lumpur is all about. Kuala Lumpur is a quintessentially Asian cyber-city, full of space-age towers, shopping malls, skyscrapers, and wi-fi coffee shops. However, all these modern aspects do not remove the fact that it is a large, bustling city with rustic elements, including historic temples, mosques, durians and street-side hawkers selling everything from t-shirts and souvenirs, to local fare.
One of the main draws to Kuala Lumpur may be the cultural diversity you will experience from the second you step off the plane. Kuala Lumpur is influenced by almost every known culture and heritage, and it certainly shows. Walking through the streets and visiting the many different attractions will make the influence of ethnic Malays, Indian migrants, British colonials and Chinese prospectors even more evident. Everything from eating, shopping and the nightlife is based on one of the cultures that once settled in the region. This influence also expands beyond the city walls into the parks and monuments outside and around Kuala Lumpur as well.
Though the temperature averages between 21°C and 33°C, and humidity exceeds 82% throughout the year, the rainiest seasons occur during March and April, and then again from September to November. You may want to avoid booking flights to Kuala Lumpur during these times, to make the most of your holiday. However, if you are travelling on a budget, you may find that quite a few cheap flights to Kuala Lumpur are available during these wetter months.
The sprawling city is home to several of Malaysia's major festivals during their holiday seasons, including the Chinese New Year, in addition to Thaipusam and Deepavali. The dates for these holidays shift each year, so if you would like to be present for the celebrations, plan accordingly. However, there are a number of festivals to experience in the city throughout the year. In January and February, you will see the Flora Fest, with a spectacular Floral Parade. For a little excitement, come to Kuala Lumpur in March or April during the Malaysian Grand Prix. Always check with your travel agent if you would like to attend a specific festival or event to ensure your flights to Kuala Lumpur are booked at the right time.
If you are physically fit, please note that Kuala Lumpur is an ideal city for walking and taking in the sites on foot. It is also difficult to get lost, as the city has some of the most easy-to-read and clear signage in all of Asia, not to mention the world! Street signs are very large and at eye level, and there are maps everywhere. The tiled pavements of about five metres in width, though slippery at the sides, make walking a little more enjoyable. It is recommended to take a walk through the city on a lazy Sunday afternoon and so avoid the hustle and bustle of the businessmen and women on the street during the week.
The city offers many attractions in a compact area. Visitors are recommended to visit Independence Square (Dataran Merdeka), the Sultan Abdul Samad Building, the National Mosque, and Kuala Lumpur Railway Station - all of which can be found on a walking tour of the city.
Kuala Lumpur is a relatively safe destination, but as with most locations, it is a good idea to keep your passport with you at all times, and to travel in groups. Before setting off to Kuala Lumpur, it is advisable to read up on some of the local customs and traditions, so that you are as respectful as possible during your stay.