Just the Flight's Guide to Las Vegas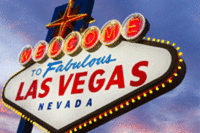 We have all heard the slogan, "What happens in Vegas stays in Vegas". You have probably also heard that Las Vegas is also known as Sin City. Well, why don't you find out for yourself why this is so? Visiting Las Vegas, Nevada can be a truly different experience, and since it has great weather and lots of fun all the year round, there is always the possibility of finding cheap flights to Las Vegas almost any time that you want to go.
Las Vegas is the spectacular of all the spectaculars. Whether you want to gamble the week away, see some really fabulous shows, lap up the luxury of some of the best spas in the world, or overindulge at the seemingly endless buffets; this is the city for you. Vegas has something for everyone. And although they call New York the city that never sleeps, Las Vegas is a close second. You want razzle-dazzle? You got it, baby!
Eating is one of the best experiences that you can have in Las Vegas. There are numerous eateries to choose from - in fact, you could quite easily visit a different one each night. Ranging from affordable buffets to starred restaurants that only foodies might appreciate; Las Vegas is a gastronomic delight. Loosen your belt and get ready to eat, eat, and eat!
Of course you can't book flights to Las Vegas without planning on visiting the casinos at least once or twice, and you don't have to be an avid gambler to enjoy yourself. Regardless of where you decide to stay in Vegas, try several different casinos to get an idea of what this crazy town is all about. This is actually a classic way to see and experience all of the fabulous Las Vegas resorts. Hit the Strip and pop in and out of the casinos that catch your eye, play a round of Blackjack or feed the slot machines if you are feeling lucky.
When you are exploring the casinos, don't miss the corner of Flamingo Road and the Strip. This section of the city will be a sight you will not forget quickly. Colourful, fanciful, and bright, this is the centre of it all. This is your best bet if you do want to go casino hopping. After all you are just a few steps away from the infamous Bellagio and its beautiful fountains, the Roman-themed Caesar's Palace, and Paris and its half-sized Eiffel Tower.
Adrenaline junkies cannot miss the opportunity to visit the Stratosphere Thrill Rides. These rides are incredible fun but are also terrifying. Perched on top of a 112-floor tower, the Big Shot will fire you up 160 feet, dangle you over the edge, and take you down. Anyone with a heart condition may want to sit this one out.
In addition to the thrills and chills that Las Vegas provides, the nightlife itself is certainly nothing less than legendary. There are sky-high bars and wild dance clubs. There are sophisticated lounges and swanky nightclubs - remember, the party goes on for 24 hours a day!
Booking flights to Las Vegas is easier than ever with almost every major airline, and some of the smaller ones, flying in and out daily. Once you land, getting around Las Vegas is very easy. You do not need to rent a car if you are staying near the Strip. There are plenty of taxis and public transportation including the monorail, but there are also buses and trolleys on offer, depending on which you prefer.
Though you may never want to leave the city limits, there are also some really great activities to enjoy outside of Las Vegas. If you have got time for a day trip, think about visiting the Hoover Dam. It was built during the 1930s and is considered one of the seven wonders of the modern world. Rising about 726 feet above the Colorado River, the Hoover Dam allows for some really spectacular views. You can even tour the interior. Many tours also include the surrounding Lake Mead, which was created by the construction of the dam.
Of course, no visit to Las Vegas would be complete without a trip to the Grand Canyon, the stunning UNESCO World Heritage Site that allows visitors to experience a glimpse into several million years-worth of geological history. By highway, the Grand Canyon is located around 280 miles from Vegas, with a number of travel options available.
Shopping, gambling, entertainment, and more - Las Vegas is a treasure to behold. Flights come in and out every day, which means planning even a last-minute holiday to Vegas is easier than ever. So, if you are considering a trip filled with fun, excitement, and a little sin, Vegas is it, baby! Book it now.