Just the Flight's Guide to Los Angeles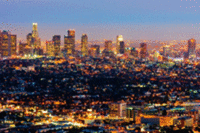 Almost 25 million visitors come to Los Angeles (nicknamed "The City of Angels") every year to get a taste of the "American Dream". Star-struck fans hope to catch a glimpse of their favourite movie stars and experience the magical worlds of Disneyland and Hollywood, the glitz and glamour of Beverley Hills, Malibu, and the famous Sunset Strip. Beach lovers will fall in love with the expanse of seafront suburbs and the timeless seaside culture.
When you arrive at Los Angeles, you will probably land at the Los Angeles International Airport, which lies just 16 miles from downtown Los Angeles. The airport is the sixth busiest airport in the world and offers direct flights to North America, Latin America, Europe, Asia, Oceania, and the Middle East.
There is so much to see and do in Los Angeles, that compressing everything into an easy to read article is no easy task. The monumental landmarks that are usually considered a must among visitors are the Los Angeles County Museum, Museum of Contemporary Art and the Kodak Theatre. Other architectural landmarks such as the Walt Disney Concert Hall, Bradbury Building and the Cathedral of Our Lady of Angels are also located in the area. If you are fortunate, you might be able to catch some local functions or events that you can check out while you are in the vicinity.
If you have just purchased one of the many available cheap flights to Los Angeles, your trip to the city will not be complete without a visit to the Disneyland resort in nearby Anaheim, California. Walt Disney had the bright idea to create the world's first theme park in this sleepy orange grove and what a great idea it was. Disneyland transformed itself from a humble start into the multi-billion theme park industry it is today. People of all ages and nations can relive their childhood again in the many amazing attractions and rides available at Disneyland. An entire book listing all the different parks located through Disneyland, each with its own distinct identity would be required to guide travellers through this monumental theme park.
For visitors who love shopping, they can pamper themselves in some of the world's most exclusive shops such as the three-storey Beverly Centre. You might also recognise Rodeo Drive, where Julia Roberts went to shop in the movie Pretty Woman. For a more casual and relaxed shopping experience, the Farmer's Market at the Grove offers some quaint little shops with friendly shop assistants.
A stroll up to Hollywood Boulevard will allow you to see the names of all the celebrity stars cemented into the ground at the Hollywood Walk of Fame - place your hands in the handprints of celebrities outside Grauman's Chinese Theatre, or take a walk to the Getty Museum to see the lovely artwork on display. In this area there is also the Hollywood Wax Museum, the only wax museum in the country that is dedicated solely to celebrity figures, and although this isn't quite the same as meeting your favourite celebrities in person, it is certainly the closest you will get to the real thing. See extremely lifelike replicas of classic stars including; Marilyn Monroe, Elvis Presley, and John Wayne; as well as the top starts of today. Enjoy taking photos of yourself in the spotlight with all the hottest movie personalities.
Los Angeles is famous for its vibrant and colourful nightlife. Begin your evening with some fine dining. Whether you opt instead for a fast-food meal or a high class dinner, this city has the right places to satisfy everyone's palate. Many restaurants even have the meals prepared by famous chefs such as Wolfgang Puck, Mario Batalik and others. You can also sample a host of English, Asian or Vegetarian delights - this is truly a melting pot of culinary treasures.
After eating to your heart's content, it's time to party, and Los Angeles offers a variety of music lounges where you can hang out and relax - why not sip a glass of fine wine while listening to some alluring jazz music. If you want more action, then maybe you would like to check out the nightclubs. Here, you'll be able to shake your body to the latest tunes in some famous clubs with funky names such as Blackout, Boulevard 3, the Cabana Club, Privilege and others. Who knows, you might even bump into a famous celebrity while you are on the dance floor.
Flights to Los Angeles can be taken at any time as the city enjoys a temperament climate for most of the year, but people who visit during the autumn and winter will experience Los Angeles with its clearest weather.