Cheap Flights to Lahore (LHE) from UK Airports
Book flights to Lahore
Lahore Cheapest Fares
To search and book flights to Lahore in 2020 and 2021, please enter your requirements and click the search button above.
Lahore Celebrates the Onset of Spring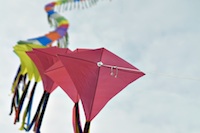 Lahore is an exciting city destination in Pakistan that combines many elements of both Muslim and Punjabi culture. Festivals that celebrate the mixed heritage abound. One of the most famous is the Basant, which occurs each year during the month of February. Also known as Jashn-e-Baharaan, this festival is Punjabi in origin and centres around the theme of celebrating the change in seasons.
Spring brings high winds with it in this part of the world and accordingly the Basant festival includes a round of kite flying competitions across the entire city. Kites of all shapes, sizes and colours decorate the sky. At points they seem to almost fill it. The concentration is greatest in the part of the city destination called Androon-E-Shehr, which means the 'walled city' or 'inner city'. Kite flying there has its own particular traditions such as a string called 'dorr', which is made from a strong thread and laced with cut pieces of sharp glass. Part of the competition involves trying to eliminate rival kites from the sky. The dorr is used to slice apart the strings tethering competitors' kites to their reels.
Another tradition on Basant is for women to wear bright yellow clothing from head to toe It is believed that this adds balance to the colourful spectacle in the sky above. People from across the globe take flights to Pakistan to enjoy this festival in Lahore. Many of them bring a souvenir kite back from abroad.