Just the Flight's Guide to Orlando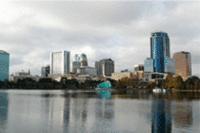 Orlando is one of the most popular global holiday destinations with millions of visitors every year, and with a multitude of activities available and constant sunny weather, it will always be a premier destination.
Travellers book flights to Orlando at any time of the year since it is always sunny with two distinct seasons; the dry season (from October to May) where temperatures rarely fall below 10 degrees Celsius (rising to 21 degrees) and the rainy season (from June to September) where temperatures rise to 32 to 37 degrees Celsius (never lower than 21 degrees Celsius). Sun-worshippers obviously flock to this destination.
Flights to Orlando are a popular booking for all ages of traveller and the city and surrounding areas has something to offer everyone. Downtown Orlando does not contain any of the attractions Orlando is famous for (theme parks for example) as these are located in nearby areas, but the metropolitan area of Orlando contains all these attractions and much more.
Famous for sun, theme parks, movie studios and aquariums, Orlando has much more to offer, with shopping, world-class golf courses, international cuisine options, botanical gardens and of course a fantastic nightlife to suit even the most adventurous of individuals.
Over two thirds of the population speak English with the majority of the remainder speaking Spanish, or Portuguese.
Those interested in art and culture can visit the Charles Hosmer Morse Museum of American Art that contains the most extensive Tiffany collection in the world, which includes glass, windows, lamps and jewellery. The Orlando Museum of Art has constant exhibitions of American portraits and landscapes, impressionist works, and art of the ancient Americas. The Orange County Orange County Regional History Center and International Trolley And Train Museum also offer many interesting exhibits.
Religious visitors can visit the Holy Land Experience - a biblical theme park with many religious exhibits and activities. The Orlando Science Center has hundreds of hand-on exhibits for all ages and includes the largest refracting telescope in Florida. Ripley's Believe It Or Not! Orlando Odditorium has many weird and wonderful exhibits, many of which were originally on the TV show of the same name - definitely a fun experience.
Those with families will have no shortage of theme park options, Walt Disney World, located in Buena Vista (18 miles south of Orlando) and undoubtedly the most famous, with The Magic Kingdom, Epcot, Disney's Hollywood Studios, and Disney's Animal Kingdom, Typhoon Lagoon and Blizzard Beach all contained within its vast area. It also has two shopping and entertainment districts, Downtown Disney and Disney's Boardwalk (to occupy adults while the kids are busy). Golf, tennis, health clubs and many other activities are also possible. Universal Orlando Resort, the main Disney rival, SeaWorld (a more relaxing alternative), Aquatica, Discovery Cove, Gatorland and Wet 'n' Wild are just some of the other possible theme parks.
Shopaholics are well catered for, with numerous shopping malls including major malls, outlet stores (where you can save up to 75%) and ethnic speciality areas known as Little Saigon, Little Brazil and Little India where you can purchase unusual items at a bargain price.
If you've just arrived in the city after booking one of the many available cheap flights to Orlando, travelling around the area is very easy, with car hire being the most common choice. One tip, be aware of tolls in effect around Orlando as these will impact on tourists (locals will have transponders and paid accounts that allow them to drive through at normal speed - hired cars will not. This is not a major inconvenience - just involves pulling off the road to pay cash at a tollbooth.
Within a short drive of Orlando there are many other attractions: if you like fishing then you can travel to Winter Haven - a network of lakes connected by canals. Cocoa Beach (for surfing), Melborne Beach (beachfront camping is possible), Daytona Beach (the home of NASCAR) and of course New Symra Beach can all cater for your water sport needs. Cape Canaveral is the home of the Kennedy Space Center and launch area for all space missions - a must see.
If these activities do not whet your appetite then consider the numerous golf courses, the fine dining, the luxury hotels, (Orlando is second only to Las Vegas for number of hotel rooms) and let's not forget the nightlife.