Just the Flight's Guide to Melbourne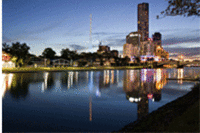 Melbourne may only be a young city in the eyes of the world but it has become the cultural capital of Australia. The city is filled with many cultural institutions such as museums, galleries, theatres, along with its extensive shopping, Victorian-ornate architecture and large parks and gardens. It is the second largest city in Australia and lies at the head of Port Phillip Bay.
The city of Melbourne is rooted in an original illegal settlement by sheep farmers from Tasmania who crossed the Bass Straits in search of new pastures. In 1835, Jon Bateman led a syndicate exploring Port Phillip Bay and then claimed he had signed a treaty with the Aborigines and began to establish a settlement. The government in Sydney balked at his claim but despite the legality of the situation, in two years time, squatters had established large sheep-holding areas in the region.
Then in 1852 more people poured into the city burning with a fever that could only be doused by finding a nugget of gold. These pioneers of the gold rush turned Melbourne into a boomtown overnight and it struggled to keep up, with makeshift dwellings springing up everywhere.
Today Melbourne is filled with another citizenry burning with zeal over their latest passion. It appears that each man, woman and child is sport-crazy and it is a fabulous city for watching and attending major sporting events.
Flights to Melbourne are routed to Melbourne Airport, 22km north of the city centre, or to a domestic airport, 50km southwest of Melbourne. There are regular flights to Melbourne from all major New Zealand and Australian cities, with international flights to the Asian hubs and onward to further connections. Cheap flights to Melbourne can even be found on some direct flights from all points of departure. It is practical to plan a vacation from almost anywhere and be able to book a direct flight to Melbourne.
The weather is Melbourne is fickle and it is often said that Melbourne has "four seasons in one day". Actually the summer months range from a comfortable 26-30 degrees except when the northern winds blow hot and heavy. This edges the temperatures up to a blistering 40 degrees and even higher. October is the rainiest month even though Melbourne receives about half of much rain as Sydney. The winter days are pleasant but the nights can dip down close to freezing. There is very little humidity in the air because of the proximity to the coast. Therefore, the best time to travel to Melbourne is in the autumn and spring.
Melbourne offers endless options for its visitors. The city sweeps up the tourist and propels them into a vibrant waterfront community, then escorts them to a fine dining establishment and an evening on the town. Or it may send them out on a day excursion to check out the Great Ocean Road, the penguin parade on Phillip Island or to explore the vast terrain of the Grampians National Park.
There are wondrous places to visit in Melbourne and it would not be wrong to start at Docklands, Melbourne's spectacular harbour. For the sports fanatic there is the AAMI Park with its dedicated pitch stadium and the Icehouse, the only dual ice rink in Australia and a new ice sports and entertainment venue for Melbourne. For the more stage-minded, visit Her Majesty's Theatre, known to all as the "The Maj." For those with an architectural eye, a forward-thinking sense of design and innovation can be found at Federation Square, the National Design Centre and the Eureka Skydeck.
For those whose only destination will be a shopping centre, City Centre will be the most attractive site in Melbourne. For the high-end designs and boutiques, head over to Chapel Street. Queen Victoria's Market is a large and lively street market with fresh and dry produce while the Prahran Market is dedicated to gourmet delights and the finest quality fresh food.
If someone is a history buff, they will be delighted with a visit to the Parliament House of Victoria, the State Library, the Melbourne Museum, and the Melbourne Gaol.
Nightlife in Melbourne is lively and the majority of it takes place in St. Kilda, the beachside precinct that rocks out with beachcombers and laid back natives. For a taste of horticulture and wildlife, take in a tour of the Melbourne Zoo, Woodlands Historic Park or the Royal Botanical Gardens. Don't forget a visit to Brighton where "bathing boxes" dot the sand in bright primary colours.
A culinary aficionado will not go unsatisfied in Melbourne. There are a number of upmarket restaurants, fine dining experiences and international cuisine to tantalize even the most discerning palate. For the charming and down home fare, visit the trendy Fitzroy section of town or the slightly shabby but still chic cafes and eateries of Smith Street.
Melbourne may be a new city by world standards, but it hasn't missed a step as it moves forward and establishes itself as one of Australia's finest cities.