Cheap Flights to Malta (MLA) from UK Airports
Book flights to Malta
Malta Cheapest Fares
The lowest fare found to Malta (MLA) was £77 with EasyJet and Business Class was £333 with Lufthansa. The fares shown here are the lowest flight prices to Malta obtained in actual searches by Just The Flight customers. To search and book flights to Malta in 2020, please enter your requirements and click the search button above.
Malta an island full of history and music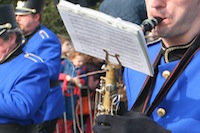 Malta has long been a favoured destination and Air Malta has recently announced it is waiving sports equipment baggage fees in February and March. With the sinking of several new wrecks and the creation of marine reserves, Malta has become a popular diving destination.
Malta is also popular for its festivals with May to September being the festa season in Malta. In summer, each of the 64 towns on Malta, as well as the 14 towns on Gonzo, hold festivals to celebrate their patron saints. The festivities start on the Friday when the saint's effigy will be adorned with treasures from the church and placed on display. The effigy is surrounded by candles and flowers. On the Saturday morning, the local bands weave their way through the streets of the town and in the afternoon there is a formal parade with banners and fireworks which finishes at the doors of the band's clubhouse. The doors are thrown open and everyone is invited to quench their thirst. On the Saturday evening, a High Mass takes place in the local church and the entire village later assembles in the main square for more fireworks and a concert. Sunday morning fireworks, announcing the beginning of the saint's day, are flowed by a High Mass and a procession of the effigy through the town. Twelve men carry the effigy on beams resting on their shoulders and the parade is immediately followed by a magnificent celebratory meal. The last fireworks end at midnight. p>
Cheap Flights
The best prices our customer have found to Malta in the last 7 days
EasyJet
Malta
£77

Lufthansa
Malta
£139

Air Malta
Malta
£159

Swiss
Malta
£163

British Airways
Malta
£169

Direct Flights
The cheapest direct flights to Malta our customers have found in the last 7 days
EasyJet
Malta
£77

Air Malta
Malta
£159

British Airways
Malta
£169

Jet2
Malta
£175

Business Class
The cheapest business class flights to Malta our customers have found in the last 7 days
Lufthansa
Malta
£333

Swiss
Malta
£334

Air Malta
Malta
£339

British Airways
Malta
£440

Austrian Airlines
Malta
£466