Just the Flight's Guide to New York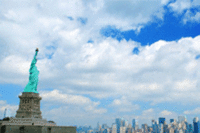 New York is the most populous city in the USA and one of the most popular tourist destinations in the world. There is no shortage of things to see and do, day or night, in the city that never sleeps.
Travellers looking to book flights to New York during Christmas and the New Year period will find that the prices of hotels will be much higher at this time of year. The best cheap flights to New York tend to be found by flying mid week, late at night or to a particular airport. New York has three airports: JFK, Newark and La Guardia.
New York's attractions are some of the most famous in the world; the iconic Empire State building, the Statue of Liberty and Ellis Island should be on everyone's travel itinerary. The Grand Central Terminal, which has featured in so many films, is more than a transport hub, with a fabulous oyster bar and shops. The Rockefellar Center is known for its ice-skating rink, Radio City Music Hall and the Top of the Rock Observation Deck. The Staten Island Ferry is the best bargain in New York and it provides wonderful views of the harbour and the Statue of Liberty. A great way of seeing many of the city's attractions and getting your bearings is to take a cruise around Manhattan Island. Walking tours can be a good way of really getting to know a neighbourhood and for the budget conscious check out Big Apple Greeters, who offer free guided tours.
New York is home to a number of world-class museums; The American Museum of National History has the largest collection of dinosaur fossils in the world as well as a life-size blue whale in the Hall of Ocean Life. The Metropolitan Museum is so large that it could easily take two days to explore. It houses over two million works of art, divided into nineteen departments. The Museum of Modern Art (MOMA) is considered to be one of the most influential modern art museums in the world and offers an unparalleled collection of contemporary and modern art.
Central Park provides a welcome break from the city, with its green meadows, stunning bridges, lakes, gardens and classical architecture; guided tours are available. The park is also home to the Central Park Zoo, which has over 1,400 animals from polar bears to tiny leaf cutter ants.
New York is home to various immigrant communities and this is reflected in the extensive range of food on offer. As well as New York classics, such as bagels and cheesecake, visitors can sample authentic Chinese, Thai, Italian, French and many other styles. Choose from upmarket restaurants that offer fine dining or more modest diners for the budget conscious. Buying food from local street vendors can be a good way of keeping to a budget and the fare can be surprisingly good. Don't forget, many New Yorkers start the day with a coffee and a bagel.
As you would expect from the city that is the setting for Sex and the City, New York has something for every shopper, whether it be upscale Madison Avenue or the bargain-friendly Lower East Side, it's no wonder that so many flights to New York are booked simply for the amazing shopping experience. Head for the world famous Macy's for essentials from big brand names or Bloomingdale's for trendy American brands. You will also find the famous Apple store and Sony Centre, a mecca for anyone interested in audio and video. Madison Avenue boasts fifteen blocks of flagship fashion house boutiques and celebrity designer shops. Alternatively, head out to Soho, the city's most upmarket outdoor mall where the cobbled streets and loft-like spaces make for a prettier shopping experience or explore nearby Chinatown for ethnic products and bargains. If you can't decide where to shop then join a shopping tour, which will take you to some of the best retail stores in New York.
New York nightlife is diverse, covering everything from Broadway shows to all-night dance parties to night cycle rides in Central Park. Bars range from the classical piano style to quirky ones devoted to a single drink, such as whisky or rum. There are venues that feature live music or stand-up comedy, so no matter what your interest is New York will have a venue to cater for it. Time Out's New York guide is a good start for finding out what is on in the city and which are the hottest clubs and bars. In the summer months many free concerts are staged in Central Park and other venues around the city. Dance, opera and film are also well represented.