Olbia Cheapest Fares
To search and book flights to Olbia in 2020 and 2021, please enter your requirements and click the search button above.
Entertainments in Olbia Italy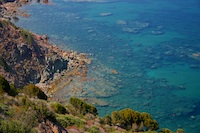 Italy conjures up images of Venice and Rome, but for those with a little adventure it can also include Olbia. The destination of Olbia, Italy, is located on the Gulf of Olbia in the Tyrrhenian Sea, as a part of Sardinia. There are many things to see around Olbia, most of which are famous for their historic appeal. Holidays in the area can also include Corso Umberto, Enoteca Cosimino, and Carpricorno Club.
Olbia does not have an annual festival. Instead, the city offers nightly entertainment via the Corso Umberto street market, Enoteco Cosimino cafe, and Capricorno Club. During the day, sights such as San Simplicio, Church of St. Paul Apostle, and the National Archaeology Museum can be enjoyed. San Simplicio is a Romanesque cathedral of the 11th and 12th centuries. The St. Paul Apostle Church dates back to the medieval period. They are valuable sights to visit for history lessons.
Corso Umberto is a street that closes every night at 19:00 hours. The street is lit for the passeggiata or traditional evening stroll. The boulevard begins at the lower end of the port. From there, holiday travellers and locals can stroll the cobbled street, visiting the markets for food, beverages, music, and souvenirs.
On another night the Enoteca Cosimino can provide entertainment with its wine bar and cafe by day. It is in Olbia's main strip of cafes on Piazza Margherita. Capricorno Club is centrally located to the night market and Enoteca Cosimino for those who want an upmarket club visit. Live music is also offered at Ajoabi at the weekend.