Cheap Flights to Osaka (OSA) from UK Airports
Book flights to Osaka
Osaka Cheapest Fares
The lowest fare found to Osaka (OSA) was £2227 with Korean Airlines, the cheapest direct flight was £2727 with British Airways, while Business Class was £2227 with Korean Airlines. The fares shown here are the lowest flight prices to Osaka obtained in actual searches by Just The Flight customers. To search and book flights to Osaka in 2020, please enter your requirements and click the search button above.
Luxuriate in nature's most beautiful displays in Osaka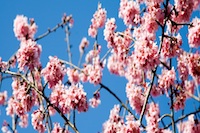 Osaka in Northern Japan is second only to the city of Tokyo in exemplifying typical Japanese urban culture. It could not be considered a conventionally pretty destination, having been heavily bombed in World War II and nowadays is a crowded concrete jungle which can feel frantic and overwhelming at times. But the city has a green heart and it is the destination for some of Japan's most beautiful and venerated floral celebrations.
The Japanese take flowers very seriously and some of the country's most beautiful displays are to be found in Osaka. There is nothing like a massed display of the same type of flower, and June is the time to visit the city as it is when several different flower festivals happen more or less simultaneously. The biggest and the most stunning display is at the annual Iris festival at Otori Taisha Grand Shrine, where over 100,000 irises of every hue crowd the beds. Words cannot describe the impact of such a vast number of flowers. Also during June, the Ikasuri Shrine showcases its collection of over 200 different hydrangeas where the combination of colours and delicate flower structure is truly awe-inspiring. Last but not least, the stunningly landscaped Shirokita Iris Garden is the venue for a display of more than 250 varieties of iris planted in huge swathes - the gardens have over 13,000 individual plants laid out around the garden's ponds and pools. The result is a breathtaking experience.
Cheap Flights
The best prices our customer have found to Osaka in the last 7 days
Korean Airlines
Osaka
£2227

Cathay Pacific
Osaka
£2279

Swiss
Osaka
£2369

Air China
Osaka
£2428

China Eastern
Osaka
£2531

Business Class
The cheapest business class flights to Osaka our customers have found in the last 7 days
Korean Airlines
Osaka
£2227

Cathay Pacific
Osaka
£2279

Swiss
Osaka
£2369

Air China
Osaka
£2428

China Eastern
Osaka
£2531