San Diego Cheapest Fares
The lowest fare found to San Diego (SAN) was £3443 with Air Canada, the cheapest direct flight was £4034 with British Airways, while Business Class was £3443 with Air Canada. The fares shown here are the lowest flight prices to San Diego obtained in actual searches by Just The Flight customers. To search and book flights to San Diego in 2020 and 2021, please enter your requirements and click the search button above.
San Diego Crew Classic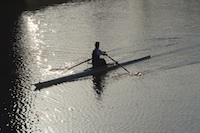 Holidaymakers with a passion for sport, or even just an inclination to watch, should book flights to San Diego. This sunny destination is the home of the San Diego Crew Classic, a two-day rowing event that began in 1973 with 300 competitors rowing against each other in 12 races. Today, it has become the world's largest regatta with over 3,400 athletes competing in more than 100 races. The event covers a wide range of ability, from high school participants to masters' clubs and Olympic level athletes.
Normally taking place in April, the regatta is an exhibit of skill and physical strength and a must see for fans of water sports. However, spectators with a penchant for a less demanding itinerary can also enjoy the sunshine among the lush lawns of Mission Bay Park.
An ideal destination for fun and games with friends and family, a kids zone will keep younger visitors occupied while a beer garden is provided for adults to relax and watch the boats. Mission Bay Park is also a perfect spot to fire up a barbeque, but do not miss out on the legendary all-you-can-eat pasta party. Those with a more refined palette and a slightly larger wallet may want to indulge in the Classic Sunday Brunch where you can enjoy a delicious buffet, bar, raffle and silent auction.
If rowing is your sport, or if you simply enjoy watching it, then San Diego is the prime destination for you.